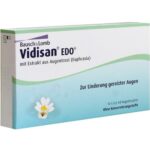 Bausch & Lomb Vidisan EDO Eye Drops 10x6ml
Sale!
Bausch & Lomb Vidisan EDO Eye Drops 10x6ml
Με Φ.Π.Α
-15%
| | |
| --- | --- |
| Weight | 0,2 kg |
| Κατασκευαστής | |
Available from 1 to 3 days
1 in stock (can be backordered)
Vidisan™

Eye drops to relieve irritated eyes with Euphrasia and
additional moisturizing effect (povidone).
Vidisan™ is suitable for relieving eye irritation and moisturizing the ocular surface. Gently soothes irritated eyes. The hydrating solution contains a valuable Euphrasia plant extract that is pleasantly soothing to irritated eyes and provides relief from typical symptoms. Many different factors can irritate the eyes, e.g. physical or chemical irritants such as smoke, wind, dust particles, strong sunlight, pollen, cosmetics or chlorinated water. Also, eye strain often causes the typical symptoms of eye irritation, e.g. burning sensation, itching, tearing.
Vidisan™ instantly calms and soothes irritated eyes and works even after the first use.
It is very well tolerated and is suitable for long-term use (it does not have an addictive effect). It can be used as often as needed, and spreads quickly over the surface of the eye.
In a package of 10 single doses with 0.6ml ophthalmic solution.