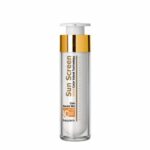 FREZYDERM Sunscreen Color Velvet SPF30, Face Sunscreen with Color, 50ml
Sale!
FREZYDERM Sunscreen Color Velvet SPF30, Face Sunscreen with Color, 50ml
Με Φ.Π.Α
| | |
| --- | --- |
| Weight | 0,15 kg |
| Κατασκευαστής | |
| MPN | 5202888222399 |
Available from 1 to 3 days
17 in stock (can be backordered)
An innovative colored, transparent face sunscreen with unique cosmetic behavior and excellent application with one touch.
Provides very high protection and uniform color tone, as it offers effective coverage in discolorations, marks and skin imperfections, while the color remains stable and unchanged for many hours. Thanks to the revolutionary innovation Second Skin Technology creates the feeling of an invisible "second skin" and at the same time leaves a velvety feeling on the skin, offers a matte, homogeneous look and softens the appearance of wrinkles. Prevents the signs of photoaging and protects against discoloration caused by sun exposure.
Basic features:
– Velvety feeling
– Matte look for 6 hours, absorbing oil and sebum
– Smoothing the appearance of wrinkles
– Water resistance
– Allows the skin to breathe
– Non-greasy texture. Dermatologically tested.
Suitable for:
Open photocopies
Photosensitive skin
Prevention of photoaging
Skin with moles, scars
Protection against skin discolorations
Every age
Any skin type
Use:
Cover evenly with sunscreen even on difficult areas such as ears, forehead and nose. Apply a sufficient amount of sunscreen. For the face of an adult a quantity corresponding to 1 teaspoon is required. Apply the sunscreen on dry skin 20 – 30 minutes before sun exposure and renew it every 2 hours, as well as immediately after swimming or wiping with a towel.