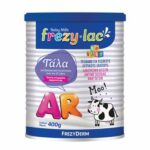 FREZYLAC AR Anti-reducing Milk Powder 0m +, 400gr
FREZYLAC AR Anti-reducing Milk Powder 0m +, 400gr
19,70 € Με Φ.Π.Α
| | |
| --- | --- |
| Weight | 0,40 kg |
| Κατασκευαστής | |
| MPN | 5202888105333 |
Available from 4 to 10 days
FREZYLAC AR ANTI-COURAGEOUS MILK
Special Purpose from Birth to the 12th Month
FREZYLAC AR is a special milk powder suitable for the diet of the infant.
With higher viscosity due to the presence of the natural coagulating agent Locust Bean Gum (locust bean gum) and in combination with the Probiotics (Bifidobacterium lactis) it helps in the reduction of the reflux episodes (sips).
Contains proteins, vitamins, carbohydrates, minerals, trace elements, saturated and polyunsaturated fatty acids, omega-3 and omega-6, DHA and ARA, providing a balanced baby diet.
It is suitable as an exclusive source of nutrition from birth to the 6th month and after the first half as part of a varied diet.
– GMO free (genetically modified agents)
– Packed in a protective atmosphere
* Breast milk is the ideal food for babies. Exclusive breastfeeding during the first half of life is ideal for your baby. When breastfeeding is not possible or not enough, consult your pediatrician about including infant formula in your baby's diet. Starting a bottle feeding can have a negative effect on breastfeeding.
Before you decide to meet the special needs of your baby, seek the advice of a Pediatrician.
Frezylac AR Special Purpose Anti-Reduction Milk from Birth to the 12th Month, 400gr-0
USE
After boiling fresh clean water for 5 minutes and allowing it to cool to 40 C, pour the required amount of boiled water according to the reconstitution table into the sterile flask.
Using the tape measure, measure the correct amount of powder.
"Cut" the surface of each measuring tape with the upside down of a clean, dry knife and add it to the bottle.
Close the bottle with the sterile cap and then stir thoroughly until the powder is completely dissolved.
Remove the cap and insert the sterile nipple. Allow the contents to cool (37 C).
Check the temperature by dripping a few drops at a time inside your wrist.
Suitable for Babies from birth to the 12th month.
After opening the package, use the contents within 4 weeks.
Packaging: 400gr
COMPONENTS
Lactose (Milk), Vegetable Fats (Palm Oil, Rapeseed Oil, Sunflower Oil, Coconut Oil, Sunflower Oil), Buttermilk, Maltodextrins, Whey Protein Concentrate, Milk, Thickener of Potassium, Magnesium Chloride, Iron Sulfate, Zinc Sulfate, Selenium Sodium, Potassium Iodide, Copper Sulfate, Manganese Sulfate), Fish Oil (Fish) (Soy Milk), Mortierella Alpina Milk Vitamins (C, PP, B5, A, E, K, D, B1, B6, B2, B12, B9, H), Inositol, Antioxidants (Ascorbyl palmitate, Tocopherols), L-Cysteine, L-Carnitine, Bifidobacteria cultures ( Bifidobacterium latis).