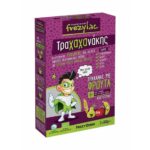 FREZYLAC ΤΡΑΧΑΧΑΝΑΚΗΣ – Organic Trachanas with Organic Fruits 330gr
Sale!
FREZYLAC ΤΡΑΧΑΧΑΝΑΚΗΣ – Organic Trachanas with Organic Fruits 330gr
Με Φ.Π.Α
-15%
| | |
| --- | --- |
| Weight | 0,35 kg |
| Κατασκευαστής | |
| MPN | 5202888106019 |
Available from 1 to 3 days
2 in stock (can be backordered)
No preservatives, salt, sugar, milk, eggs, odor
With a taste compatible with the nutritional preferences of infants and children.
Fasting
Notified to the EOF
EOF Notification Number 134740 / 11.11.2019
Organic whole grain trachanas with organic fruits. Organic trachanas of high nutritional value for infants from 6 months and young children. With whole wheat wheat flour and whole fresh organic fruits (apple, pear, banana) incorporated in the grain of the wheat with the traditional kneading process. It is the modern proposal of FREZYDERM that transforms the timeless favorite trachana with the high content of fiber, vitamins and trace elements, into organic baby and baby food. Prepared by the method of incorporating whole fruits in the grain of wheat, frezylac Trachahanakis is a new nutrient-dense food that meets the needs of all ages. With vitamins, minerals, antioxidants, the nutritional "richness" of the fruit is concentrated in frezylac Trachahanakis. Finally, as a whole grain product, frezylac Trachahanakis has the beneficial nutrients of the wheat that is ground while maintaining all its grains. To offer you a delicious creamy texture with easy cooking, the trachanas with fruit has the ideal grain size.
* The pulp of freshly produced organic fruits is made during the production process in order to preserve their vitamins.
Follow procedure: check, clean, mash, boil, retest.
The product is consumed in the context of a varied and balanced diet.
It is a source of protein and a completely natural biological product.
Infants from 6 months, young children, adults and the elderly