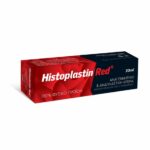 Histoplastin Red Regenerating Cream 20ml
Sale!
Histoplastin Red Regenerating Cream 20ml
Με Φ.Π.Α
-30%
| | |
| --- | --- |
| Weight | 0,09 kg |
| Κατασκευαστής | |
| MPN | 5200411400252 |
Available from 1 to 3 days
12 in stock (can be backordered)
RENAGEMENT, RENOVATION & REPAIR OF THE SKIN TO THE MAXIMUM DEGREE
Histoplastin Red dermocosmetic is a Greek product with a unique, internationally patented composition. Contains the triple plant complex 3X Complex with strong regenerative and repairing properties, dispersed in virgin yellow beeswax. The 3X Complex is an ideal combination of three natural powerful antioxidants, with parallel remedial and regenerative action, which work synergistically, intensively nourish, hydrate, tone and deeply regenerate the skin.
The 3X Complex contains:
Alkanins from a standard extract of the root of the plant Alkanna tinctoria (Alkanna tinctoria root)
Terpenoids of Chios Mastic Resin (Pistacia lentiscus var. Chia)
Extra virgin olive oil
Histoplastin Red is intended for intensive treatment of the upper layers of the skin. Restores quickly and effectively all the normal features of youthful skin, such as appearance and texture. The combination of 3X Complex with the yellow beeswax also soothes irritations.
It is a 100% natural complex, developed exclusively on the basis of the scientific results of an extensive clinical research of the professor and Honorary Doctor of the Medical School (AUTh), Vassilis Papageorgiou, dating from 1978 and continuing to this day. It does not contain any chemical excipients or other synthetic additives, which are often responsible for irritation or skin sensitivities.
The regenerative capacity of the cream has been proven by studies in chronic skin lesions of any etiology, unresponsive to treatment, both in Greek and in foreign research institutes (for example Andreas Syngros Hospital, Heidberg Hospital Dermatology Clinic, Hamburg).
It has rightly been established as "the miraculous red cream" thanks to its spectacular results. Histoplastin Red is:
Strong skin regeneration & regeneration factor
Very effective in repairing all signs of normal skin aging (wrinkles, dark spots, dullness) and acne scars.
A means of strong protection of the skin from environmental pollution, sunlight and oxidative stress, as it strengthens the skin's antioxidant defenses.
Absolutely safe, even for very sensitive skin.
Histoplastin Red is a unique natural skin elixir, thanks to the action of its ingredients:.
Activates the production of collagen, elastin and inbloqurine and quickly and effectively restores skin elasticity.
It has a strong antioxidant effect, binds free radicals, strengthens the skin's defenses locally and protects the skin from environmental pollution, sunlight and the harmful effects of stress.
Creates a porous protective film on the skin, which retains natural moisture and enhances skin hydration, while allowing the skin to "breathe".
It is a powerful regenerating agent, which nourishes the skin in depth and quickly and effectively restores all the normal characteristics of firm youthful skin in appearance and texture.
Histoplastin Red is manufactured with innovative technology, according to strict Good Practice Production (GMP) standards, and is kept unchanged for 18 months.
The cream has an intense red color, which does not stain the skin, but can stain clothes. This is why it is recommended to be careful to avoid direct contact of the skin that has been smeared with the clothes.
Do not use during pregnancy and lactation.