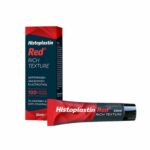 Histoplastin Red Rich Texture – Rich Anti-Aging Face Cream for Normal / Dry Skin, 30ml
Sale!
Histoplastin Red Rich Texture – Rich Anti-Aging Face Cream for Normal / Dry Skin, 30ml
Με Φ.Π.Α
-32%
| | |
| --- | --- |
| Weight | 0,12 kg |
| Κατασκευαστής | |
| MPN | 5200411400467 |
Available from 1 to 3 days
10 in stock (can be backordered)
New advanced formula for dry and normal skin
Light texture – Instant absorption – With Alkannin active and Argan oil 100% natural product
ELASTICITY, RECONSTRUCTION, ANTI-AGING
Histoplastin Red® RICH TEXTURE is a cosmetic product for the reconstruction and regeneration of the facial skin.
It is suitable for dry & normal skin. It has a rich texture and is absorbed immediately, it is a 100% natural product, suitable for all ages. Prevents and treats daily wear and aging of the skin, accelerating its renewal from damage caused by daily aggravating factors, such as:
Lack of sleep

Cigarette's smoke

Bad weather conditions

Air pollution

Anxiety

Lack of proper nutrition and sleep

Solar radiation

Intense, frequent makeup

Oxidative stress

Light texture

Immediate absorption

With Alkannin active

100% natural product
Histoplastin Red RICH TEXTURE is a cream with strong regenerative, anti-aging and antioxidant properties. Intended for intensive skin care, rebuilding and improving its appearance and texture. It renews the face, highlighting its natural beauty.
PROPERTIES:
Regeneration: Enhances the natural mechanisms of skin renewal.
Antioxidant protection: Creates a strong antioxidant protection film that binds and inactivates free radicals. Thus, it protects the collagen network in the skin from oxidative degradation.
Elasticity: Restores elasticity and restores firmness by improving the contour of the face.
Reconstruction: Reconstructs roughness and relaxation points on the skin.
Anti-Aging: Antioxidants protect the skin from oxidative damage caused by sunlight.
Nourishment & Hydration: Provides nourishment and enhances skin hydration, maintaining its natural moisture.
Prevents premature aging.
Slows down the normal wear and tear of time.
Reduces wrinkles and fine lines and prevents the formation of new wrinkles.
It treats the dull face, giving it vitality and radiance.
Restores the healthy and youthful appearance of the skin.