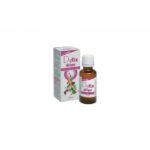 INTERMED D3 FIX DROPS 30ML
Sale!
INTERMED D3 FIX DROPS 30ML
Με Φ.Π.Α
-17%
| | |
| --- | --- |
| Weight | 0,10 kg |
| Κατασκευαστής | |
| MPN | 5205152004882 |
Available from 1 to 3 days
1 in stock (can be backordered)
D3 Fix Drops is a dietary supplement of vitamin D3 (cholecalciferol) in the form of an oral solution in drops, to meet the increased requirements of the body for vitamin D3 or when there is a need for it.
In D3 Fix Drops vitamin D3 is water soluble thus ensuring excellent absorption and high bioavailability.
Package with 30ml dropper vial (200IU D3 / drop).
Newborns-children
• Premature newborns
• Newborns born to mothers with vitamin D deficiency
• Newborns who exclusively breastfeed or receive less than 1Lt of fortified milk per day
• Dark children or children who make extensive use of sunscreen
• Children in development
• Children with chronic diseases or digestive disorders
• Children treated with antiepileptic drugs and corticosteroids
Adults
• Indoor patients or people who stay indoors or make extensive use of sunscreen
• Patients with chronic diseases & digestive disorders
• Obese patients, malnourished people, vegetarians
• People with dark skin
• People taking cholesterol (cholesterol) medication as well as antiepileptics or corticosteroids
• Menopausal women with osteoporosis & with a history of accidental fractures
• Pregnant women
It does not contain sugar or salt, with a pleasant strawberry flavor.
• Do not exceed the recommended daily dose
• Dietary supplements should not be used as a substitute for a balanced diet
• This product is not intended to prevent, treat or cure any human disease. Consult your doctor if you are pregnant, breast-feeding, taking medication or have any health problems.
• Keep out of the reach of small children
• No. EOF Notification: 89376 / 16-12-2011 (The product is not subject to licensing process.)