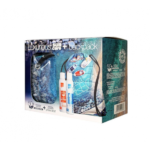 Intermed Luxurious Set Sun Care 3 PROMO & Backpack Greece products
Sale!
Intermed Luxurious Set Sun Care 3 PROMO & Backpack Greece products
Με Φ.Π.Α
-43%
| | |
| --- | --- |
| Weight | 1,00 kg |
| Κατασκευαστής | |
| MPN | 5205152015666 |
Available from 1 to 3 days
1 in stock (can be backordered)
Intermed Luxurious Suncare Greece Promo Package Set Sunscreen Spray Antioxidant With Vitamin C SPF50 + 200ml & Moisturizing Spray Mist With Hyaluronic Acid 200ml & Summer Backpack Backpack
Antioxidant Hydrating Spray Mist Hyaluronic Acid Moisturizing Nebula
Luxurious Sun Care Hydrating Antioxidant Mist Face & Body offers care for damaged and sun-irritated skin, deep and lasting hydration and activates the skin's natural regenerative and healing ability. Tones dry and damaged skin and soothes from minor irritations, burning sensation and erythema.
Contains:
Hyaluronic Acid
Provitamin B5
Grape Distillate
Cucumber Extract
Chamomile Extract
NMF simulation composition
INDICATIONS
It does not lubricate the skin & clothes
Free of parabens, alcohol & artificial colors / fragrances
Dermatologically tested
USE
Apply to the areas that need hydration from a distance of 20-25 cm as many times as needed
PRECAUTIONS
Avoid contact with eyes
Store in a cool (15-25οC) and shady place, away from children
It can be kept in the refrigerator for even cooler results.
Antioxidant Sunscreen SPF50 + Spray Antioxidant Sunscreen with Vitamin C
Transparent spray that can be easily and quickly applied to dry or wet skin, creating a hydrophobic barrier. The antioxidant composition with vitamin C and enhanced combination of UV filters offers complete protection from UVA, UVB radiation and anti-aging action. Moisturizes and protects the skin from oxidative damage, while improving its texture without leaving traces of oil.
INDICATIONS
Protection of the skin from oxidative damage & premature aging
Moisturizing & improving the texture of the skin
Transparent spray, invisible texture
Easy & fast application on dry or wet skin
Dermatologically tested
USE
Evenly apply a sufficient (*) amount of sunscreen to exposed parts of the body 30 minutes before sun exposure
Repeat use often, especially after heavy sweating, swimming and wiping.
(*) The sufficient amount is 2 mg / cm2 of skin (for an average adult they correspond to about 30 g for the whole body).
PRECAUTIONS
Avoid direct and prolonged exposure to sunlight even if you use sunscreen.
Excessive sun exposure poses a serious risk to your health.
Avoid exposure to the intense midday sun.
Store in a cool place.
+ Gift Backpack Bag