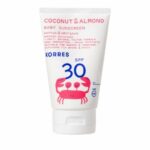 Korres Baby Sunscreen Coconut & Almond SPF30 Baby Sunscreen Emulsion for Face & Body 100ml
Sale!
Korres Baby Sunscreen Coconut & Almond SPF30 Baby Sunscreen Emulsion for Face & Body 100ml
Με Φ.Π.Α
-35%
| | |
| --- | --- |
| Weight | 0,15 kg |
| Κατασκευαστής | |
| MPN | 5203069090073 |
Available from 1 to 3 days
4 in stock
IDEAL FOR SENSITIVE SKIN FACE & BODY
WITH 1x MONO NATURAL FILTER (NON-NANO)
94% CONTENTS OF NATURAL ORIGIN
WITHOUT PERFUME & SILICONES
VERY WELL TOLERATED FROM THE EYES IN CASE OF ACCIDENTAL CONTACT
(IN VITRO EpiOcular ™ EYE IRRITATION TEST)
HIGH SUN PROTECTION FOR INFANTS & CHILDREN
DOCUMENTED SAFE PHYSICAL INGREDIENTS
WITHOUT SILICONES
For the first time, KORRES presents a complete line for the sun protection of the sensitive skin of babies and children. The three new silicone-free products are designed to offer protection, hydration, softness and nutrition. Coconut and almond oils are at the core of the three new gentle compositions – vegetable oils of medicinal specifications and high purity, with unique moisturizing properties, which are documented perfectly suitable and safe for the fragile baby and child skin. The new sunscreen products for face and body are clinically proven ideal for sensitive skin, offer high protection from the wide range of UVA / UVB radiation, while they are suitable for use in any activity that exposes children and babies to sunlight.
In particular, the baby sunscreen of the collection, with 94% content of natural origin, has been developed based on the principle of the minimal formula for the absolute protection of the baby's skin. It is the only baby sunscreen product that combines the best possible growth options for baby skin, in line with the European Union recommendations for the development of safe cosmetics for babies: fragrance free, silicone free, with only 1x natural non-nano sunscreen and the absolutely necessary amount of safe natural active ingredients. Is also,
tear-free sunscreen, ophthalmologically tested with EpiOcular ™ Eye Irritation Test, which makes it very well tolerated by the eyes in case of accidental contact.
Coconut oil & ALMOND OIL
CERTIFIED PHARMACEUTICAL SPECIFICATIONS & HIGH PURITY VEGETABLE OILS
(PHARMA-GRADE PLANT OILS)
High purity coconut oil is rich in saturated fats and fatty acids, improves the hydration levels of sensitive baby and child skin where the water loss is more intense, maintaining its healthy appearance, without the risk of irritation. In the same safe context, high purity almond oil – a source of vitamins, minerals and linoleic acid – moisturizes, nourishes the skin and maintains its softness, without traces of oil. These pharma-grade vegetable oils are also a natural means of protection from the sun, while their pharmaceutical specifications help to reduce the possibility of allergies. The formulations of the three new KORRES sunscreens are enriched with additional baby-friendly mild moisturizing ingredients, such as glycerin 100% of plant origin, known for its ability to create water reserves with long-term action.