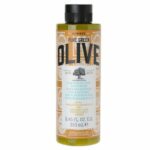 KORRES Pure Greek Olive Nourishing Shampoo 250ml
KORRES Pure Greek Olive Nourishing Shampoo 250ml
9,04 € Με Φ.Π.Α
| | |
| --- | --- |
| Weight | 0,30 kg |
| Κατασκευαστής | |
| MPN | 5203069067792 |
Available from 1 to 3 days
4 in stock
With 82.6% of its composition from natural ingredients
The olive tree is one of the most popular trees in the Mediterranean, as it was considered the most important tree in ancient mythology.
An excellent ingredient for skin care as it gives multiple effects:
– works protectively
– nourishing, moisturizing & antioxidant action
– softness
– creates rebirth
Cretan virgin olive oil, in the Cretan diet that is known worldwide as the healthiest is the base of the pyramid. Rich in vitamins A & E and fatty acids, it is considered the best oil in the world, with unquestionable quality.
A series based on the famous Cretan Olive Oil. High quality olive oil from the green olive groves of Crete, has been added to cosmetic products. Widely known for its antioxidant, nourishing and healing action, Cretan olive oil is ideal for hair and skin.
Use
Apply the shampoo to wet hair with a light massage. Rinse and repeat.