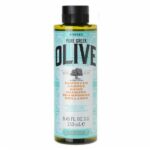 KORRES Pure Greek Olive Shine Shampoo 250ml
KORRES Pure Greek Olive Shine Shampoo 250ml
8,90 € Με Φ.Π.Α
| | |
| --- | --- |
| Weight | 0,35 kg |
| Κατασκευαστής | |
| MPN | 5203069067785 |
Available from 4 to 10 days
Inspired by the beauty ritual of the women of Crete that is lost in the centuries, KORRES turns to the sacred tree-symbol of Greece and to the highest quality and world-famous variety of organic extra virgin olive oil for the creation of the PURE GREEK OL collection.
An "autonomous" line, as, in addition to body care, now acquires a place in the care of face, hair, but also in the category eau de cologne – products based on organic extra virgin olive oil, rich in antioxidants and nutrients, vitamins and polyphenols , and the tonic extract of organic olive leaves from the famous olive groves of Crete where the superior quality variety, Koroneiki, is cultivated.
The shampoo with Olive leaf extract and B&E vitamins and 82.6% natural ingredients is suitable for intense shine and elasticity.