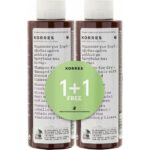 Korres Shampoo for Dry / Dehydrated Hair with Almond & Flax 2x250ml
Sale!
Korres Shampoo for Dry / Dehydrated Hair with Almond & Flax 2x250ml
Με Φ.Π.Α
-25%
| | |
| --- | --- |
| Weight | 0,65 kg |
| Κατασκευαστής | |
| MPN | 5203069046056 |
Available from 1 to 3 days
20 in stock (can be backordered)
– Sunflower and Mountain Tea, a natural source of polyphenols, protect hair color from sunlight, styling and frequent shampooing.
The bioactive polysaccharide system with the name-code HAIRSPA ει moisturizes and soothes the scalp, protecting it from problems such as dryness or dandruff, while for the first time it works in combination with a hair product with Plantasil® Micro, an excellent 100% natural conditioner . A 'coexistence', for which a patent pending is pending, which maximizes the action and care of KORRES shampoos during and after shampooing.
– Multidimensional formulas CRETAN HERBS
A common denominator of the compositions of the KORRES series, is the mixture of Organic Herbs from Crete – one, tonic for hair growth, combination of Greek organic extracts, Diktamo / Marjoram / Mountain Tea, which 'appears' for the first time in a list of ingredients. The three extracts of Cretan plant ingredients 'work together' to offer anti-inflammatory, antiseptic and antioxidant action, forming the 'shield' of the scalp against external attacks.
-COLUME OF B VITAMINS
– Vitamin B3 and provitamin B5 [belong to the family of B-B complex vitamins] offer complete hair care and repair.
– NATURAL ACTIVE INGREDIENTS OF HIGH EFFICIENCY
A variety of other highly effective natural active ingredients contribute to the final action of each product according to the needs and type of hair to which it is addressed.
The absence of silicone and the avoidance of other harmful synthetic compounds, such as paraben, mineral oils, propylene glycol, ethanolamines is self-evident, according to the development philosophy of KORRES products, while the perfumes are PCM / Phthalate free.
Dermatologically tested.
Suitable for vegetarians.
Product use: – Apply the shampoo on wet hair and give a light massage. Rinse and repeat. Ideally combine with the conditioner for dry / dehydrated hair Almond & Flax.