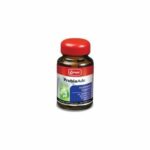 Lanes Probioade, Dietary Supplement for Normal Intestinal Function 20 tablets
Sale!
Lanes Probioade, Dietary Supplement for Normal Intestinal Function 20 tablets
Με Φ.Π.Α
-25%
| | |
| --- | --- |
| Weight | 0,25 kg |
| Κατασκευαστής | |
| MPN | 5201314068518 |
Available from 1 to 3 days
14 in stock
ProbioAde is an innovative combination of ingredients with probiotics, prebiotics, vitamins and minerals that contributes to the normal intestinal function, while strengthening the body with nutrients.
Contains a combination of 10 selected lactic enzymes & fructooligosaccharides, fiber, with a positive effect on the balance of intestinal flora. It is also enriched with vitamins C, B6, B12, D, folic acid, iron, copper, zinc and selenium that contribute to the normal functioning of the immune system. The addition of calcium contributes to the normal function of digestive enzymes, while vitamins B1, B2, B3, E, magnesium & manganese also contribute to metabolic processes for energy.
Probiotics are microorganisms, "friendly" bacteria, similar to the beneficial bacteria present in the gastrointestinal tract, but also in the urinary and genital system (vaginal mucosa) of the body, with beneficial effects on health.
Extensive research has been conducted on the effectiveness of probiotics, in terms of improving the health of the intestinal flora or even treating or preventing various related disorders. The presence of probiotics to treat various types of diarrhea is beneficial, such as traveler's diarrhea, acute rotavirus diarrhea, antibiotic-related diarrhea or other reasons. The balance of the intestinal flora can also be disturbed by intense stress, change of diet or lifestyle or other health disorders. Probiotics dare to balance these disorders.
At the same time, they help in the digestion and consequently in the absorption of nutrients, as they participate in the breakdown of proteins and fats in the digestive system, improve the body's defense and the function of the immune system and protect against dangerous bacteria, preventing serious infections.