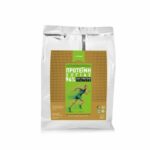 No Carb Soy Protein Isolate 94%, 500gr
No Carb Soy Protein Isolate 94%, 500gr
9,45 € Με Φ.Π.Α
| | |
| --- | --- |
| Weight | 0,55 kg |
| Κατασκευαστής | |
Available from 1 to 3 days
4 in stock
Isolated Soy Protein 94% – natural taste, without additives, high quality, without GMO.
What is; Soy protein is a very good vegetable source of protein, which provides all 9 essential amino acids. Soy is also offered as a powerful antioxidant, which makes it even more useful for the post-workout period. What does it contain; 100% Isolated soy protein. This means that Soy Protein Isolate from NoCarb Noodle has followed the most advanced Isolate filtration process, which means 94% purity with zero percentages in carbohydrates and fat.
100% soy protein
Natural source of soy (GMO Free)
Lactose Free
Gluten Free
The whole amino acid profile
Suitable for vegetarians
It is the ideal alternative for athletes who follow a vegetarian diet, for diabetics, for diet. So if you belong to one of the above categories or you fast occasionally or you just want to enrich your diet with other sources of protein, NoCarb Noodle Soy Protein Isolate is an ideal solution. Soy Protein isolate is a safe and healthy way to fight the risks of coronary heart disease. It can also be used to prevent osteoporosis and menopausal symptoms as well as to fight certain cancers.
Weight 500g
The product is not produced by genetically modified organisms and does not contain any raw material derived from genetically modified organisms. Keep in a dry and cool place. Made in the EU.