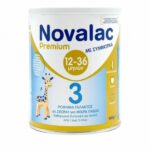 Novalac PREMIUM 3 3rd Infant Milk from the 12th Month, 400gr
Sale!
Novalac PREMIUM 3 3rd Infant Milk from the 12th Month, 400gr
Με Φ.Π.Α
-10%
| | |
| --- | --- |
| Weight | 0,55 kg |
| Κατασκευαστής | |
Available from 1 to 3 days
6 in stock (can be backordered)
Novalac premium 3 is an infant milk suitable for feeding full-term infants from birth onwards, when breastfeeding is not practiced. Novalac premium 3 fully covers the nutritional needs of infants during the first half of life. Novalac premium 3 contains: DHA GOS (Milk Oligosaccharides) Taurine Nucleotides
USE
Always wash your hands before preparing a bottle. Each bottle must be prepared separately. Use only the measuring tape included. The formula must be consumed within one hour of its preparation. Wash the bottle, cap, nipple and any tool that will be used and sterilize them in boiling water. Boil clean drinking water for 5 minutes and let it cool to 40 ° C or heat clean fresh mineral water with a low mineral content to 40 ° C. Pour the required amount of water (see feeding guide) into the flask . Measure the correct amount of formula (see feeding guide) in the bottle using the measuring tape provided. Always use a sharp measuring tape per 30 ml of water. Secure the bottle cap and shake well until the powder is completely dissolved. Allow to cool to a warm temperature (37 ° C). Check the temperature in your wrist before eating. Any formula left over after feeding should be discarded immediately. Storage instructions Close the box after each use with the lid provided. Store in a cool and dry place, protected from light. Use it within 3 weeks of opening. Do not use after the expiry date which is stated on the carton. Do not prepare the bottle in advance, but always just before use.