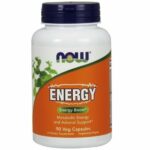 NOW Energy (Ephedra Free) Energy Booster 90caps
Sale!
NOW Energy (Ephedra Free) Energy Booster 90caps
Με Φ.Π.Α
-10%
| | |
| --- | --- |
| Weight | 0,22 kg |
| Κατασκευαστής | |
| MPN | 73373903326 |
Available from 4 to 10 days
ENERGY nutritional supplement combines a complete range of nutrients and nutrients, which strengthens and tones your body in a natural way. This formula does not contain ephedra (Ma Huang) or orange, instead, this formula is formulated with natural ingredients such as B vitamins, green tea, panax ginseng, and Rhodiola to naturally support thermogenesis, energy production, and adrenal function. Caffeine is present in this product as an ingredient in guarana, yerba mate, and green tea plants.
Green tea strengthens the immune system, offers strong antioxidant protection, supports digestion, helps the heart and circulatory system, regulates sugar, strengthens bones, protects tooth enamel and slows down the aging of the skin. increase metabolism, keep skin healthy and provide muscle stimulation, while stimulating both the immune and nervous systems and contribute to the growth of cells and blood cells by participating in the prevention of anemia.
Panax ginseng also helps with memory, diabetes, male impotence, premature ejaculation, athletic performance, diarrhea, hot flashes from menopause, bronchitis, anemia, chronic fatigue syndrome and fibromyalgia, Rhodiola increases the body's ability to adapt to stressful conditions and stimulates the body.
Dosage
Take 2 capsules daily as required with 230 to 350 ml of water.
Warning: Reckless abuse of the product in combination with other herbal preparations or medicines can have the exact opposite effect.
The product contains niacin, which may cause transient flushing, tingling or redness of the skin. Discontinue use if you experience nervousness, insomnia or nausea.