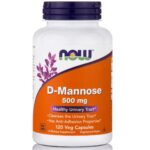 Now Foods D-Mannose 500mg, for Urinary Tract, 120Veg Capsules
Sale!
Now Foods D-Mannose 500mg, for Urinary Tract, 120Veg Capsules
Με Φ.Π.Α
| | |
| --- | --- |
| Weight | 0,25 kg |
| Κατασκευαστής | |
Available from 1 to 3 days
2 in stock
D-mannose is a simple (six-carbon) sugar that prevents bladder or kidney infections. This "natural" sugar is produced by the human body, but is insufficient to fight the harmful E-Coli bacteria, which is the root cause of 90% of urinary tract infections.
Mannose can maintain and support a healthy urinary system by inhibiting the attachment of pathogenic organisms to the surface of the host tissue. The bacterium sticks to the membrane of "natural" sugar, and is expelled from the body during urine excretion Therefore, doctors recommend regular dosage of D-mannose, as it does not cause side effects. Antibiotic drugs kill the E-Coli bacteria but sometimes they also kill the friendly bacteria that enhance the urinary process. In contrast, D-mannose removes the E-Coli bacteria from the walls of the bladder.
Although mannose is a simple sugar, it is absorbed at a slower rate and is not easily converted to glycogen for storage in the body. NOW's D-Mannose is produced by the isomerization of glucose derived from non-genetically modified corn, white potato and sweet potato. It delivers 4 calories per gram, and is at least 98% pure. The remaining parts are mostly moisture.