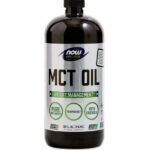 Now Foods MCT Oil Liquid Vegeterian 100% Pure Weight Loss Formula 946ml
Sale!
Now Foods MCT Oil Liquid Vegeterian 100% Pure Weight Loss Formula 946ml
Με Φ.Π.Α
-20%
| | |
| --- | --- |
| Weight | 1,00 kg |
| Κατασκευαστής | |
| MPN | 733739021991 |
Available from 4 to 10 days
Medium Chain Triglycerides or Triglycerides Medium Chain (MCTs) contain 6 to 12 carbon atoms and are lipids found in nature, mainly in coconut oil and palm oil. The 100% pure MCT Oil of NOW Sports is absorbed through the gastrointestinal tract and then transported to the liver, thus achieving its conversion into energy.
Medium triglycerides were more digestible than other types of lipids, as lower levels of enzymes and bile acids were required for internal absorption. Numerous nutritional studies have shown that replacing other lipids with MCTs oil in a healthy eating setting can effectively stop supporting healthy weights and the desired body composition.
In addition, MCTs oil promotes intestinal health by ridding the body of annoying microorganisms that cause chronic inflammation such as Crohn's disease or irritable bowel syndrome. In addition, it helps diabetics as they enhance the regulation of blood sugar levels.
Take 1 tablespoon (15 mL) daily.
MCT Oil can be used as a substitute for conventional dressing oils in salads, sauces or cooking applications (> 180 ° C).
Not recommended for use in frying due to low smoke point. After opening the package, place the container tightly closed in a refrigerator.
Other Ingredients: None.
It is not made with yeast, wheat, gluten, soy, corn, milk, egg, fish or shellfish. It is produced in a GMP facility that processes other ingredients that contain these allergens. Without hexane.
NOW MCT OIL comes from coconut / palm oil that comes from a sustainable base for the protection of our planet and the conservation of natural habitats of wildlife.
Storage instructions: Store in a cool, dry and dark place in a tightly closed original container. Once opened, the product can be cooled or stored at a cool room temperature.
Serving Size: 1 teaspoon (15 mL)
Portions per container: about 63
Amount per serving% Daily value
* The percentage of daily values ​​is based on a 2,000 calorie diet.
Τι Daily Price is not set.
Calories 100
Total fat 14 g 18% *
Saturated fat 14 g 70% *
MCT Oil (medium chain triglycerides)
(from coconut / palm oil)
[50% caprylic acid (C8) and 30% capric acid (C10)] 14 g †