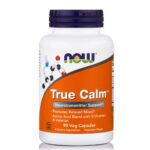 Now Foods True Calm Anxiety Supplement 90 Capsules
Sale!
Now Foods True Calm Anxiety Supplement 90 Capsules
Με Φ.Π.Α
-61%
| | |
| --- | --- |
| Weight | 0,25 kg |
| Κατασκευαστής | |
Available from 1 to 3 days
1 in stock
Promotes Relaxed Mood
Amino Acid Blend with B Vitamins & Valerian
NOW Foods True Calm™ is a nutritional formula that incorporates all the latest amino acid and neurotransmitter research. Especially:
G-aminobutyric acid (GABA) which acts as a neurotransmitter in the central nervous system, reducing the activity of neurons, and preventing their hyperfiring. With niacinamide (B3) and inositol, GABA prevents messages related to anxiety and stress from reaching the motor centers of the brain. GABA has also been used to treat depression, manic-depressive disorder, premenstrual dysphoric disorder, and anxiety. It improves the sleep cycle, offering a more restful sleep. It contributes decisively to the stabilization of blood pressure, and is a very effective pain reliever that eliminates pain from chronic conditions, such as arthritis and back pain.
Glycine is necessary for the central function of the nervous system. Research studies indicate that this amino acid can help block the neurotransmitters that cause seizure activity, hyperactivity, and manic (bipolar) depression.
Taurine can act as a regulator or anxiolytic agent in the central nervous system.