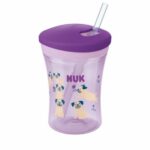 NUK Action Cup 230ml with straw PURPLE DOGS , 12m (10.751.319)
Sale!
NUK Action Cup 230ml with straw PURPLE DOGS , 12m (10.751.319)
Με Φ.Π.Α
-16%
| | |
| --- | --- |
| Weight | 0,25 kg |
| Κατασκευαστής | |
| MPN | 4008600365129 |
Available from 1 to 3 days
1 in stock (can be backordered)
NUK Action Cup: Learn to drink with action!
The NUK Action Cup Cup accompanies the child from 12 months onwards, when he becomes more lively and constant movement and activity become his priority. The soft straw is flexible and soft with the palate and gums. Thanks to the practical screw cap it has, one movement is enough and the straw disappears inside the cap. During transport, the straw is folded and hidden inside the lid, so that everything is kept dry and clean. This NUK cup also has a vent valve that ensures that children can drink without problems.
NUK Action Cup – flexible and safe in any occasion
The NUK Action Cup Glass is made of high quality, durable materials, 100% without BPA (BPA free) and is decorated with cute designs. All its parts are easily and efficiently cleaned. Also, the NUK Action Cup glass is disassembled and reassembled very easily. Its shape, which is specially designed to narrow down, allows small hands to hold it easily: the NUK Action Cup glass accompanies our little ones in the small and big adventures of their daily life.
This NUK glass is compatible with all parts of the NUK Evolution Cup series.
NUK glasses: They learn to drink easily, for three!
Learning to drink independently is one of the most important steps in a baby's development and is a real challenge in terms of patience and skill. That's why we designed the evolutionary NUK Evolution Glasses: three new NUK Glasses, which can be combined with different special lids and thus follow the development of the child as he grows up. Each cap is specially designed to suit a different educational stage and can be easily replaced as the baby's abilities increase – in a way that is very personalized and adapted to each baby's learning pace. All three caps provide 100% protection against leaks. All the accessories are included in the practical training set NUK Evolution Cup: discover the glasses that grow with you!