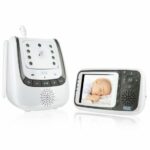 Nuk Eco Control Plus Video Baby Monitor Digital Intercom and Infant Video Monitor (10.256.296)
Sale!
Nuk Eco Control Plus Video Baby Monitor Digital Intercom and Infant Video Monitor (10.256.296)
Με Φ.Π.Α
-25%
| | |
| --- | --- |
| Weight | 1,90 kg |
| Κατασκευαστής | |
| MPN | 4008600156284 |
Available from 4 to 10 days
Nuk Eco Control Plus Video Baby Monitor Digital Intercom and Infant Video Monitor
More peace whenever you need it
Your baby's sleep patterns are valuable breaks that you can take advantage of. NUK has designed for you a 100% reliable intercom device in order to feel really carefree while your baby is sleeping. The Eco Control + Video system emits audio and video, informing you even about the slightest activity of your child. The device has a separate unit for parent and baby, which are perfectly coordinated with each other and provide numerous additional functions:
Full-Eco-Mode function
100% without high frequency radiation in standby mode, ie when the baby is immobile
No unnecessary radiation in the infant area: the intercom only beeps when the baby is anxious
Energy saving – thanks to 90% reduced signal emission
Absolutely guaranteed shooting both indoors and outdoors
100% interference-free transmission thanks to digital FHSS technology (spectrum switching with spectrum dispersion)
High signal transmission security thanks to the private transmitter-receiver connection system
Crystal sound of exceptional quality
Range up to 300m outside the house and 50m indoors
Complete control day and night
Ultra-large 2.8-inch (7.1 cm) color screen for reliable video surveillance
Camera with adjustable field of view: the baby unit camera is height-adjustable, while the parent unit camera has an image magnification function
Thanks to the night vision function and the infrared lighting, the camera automatically adapts to the lighting conditions of a space, thus allowing reliable monitoring of the baby even at night.
The vibrating alert system informs the baby about the activity even when the picture and sound recording is turned off in the parent unit
Notification with visual LED indicator in case the parent unit is out of range of the baby unit
More care for your baby
Voice transmission function with excellent sound quality to reassure the baby through the parent unit
Temperature sensor for direct transmission of an alarm signal to the parent unit in case of temperature fluctuations in the baby's room
Lullaby function, adjustable via the parent unit, with 5 different lullabies
Extremely easy to operate
Bright LCD screen with easy-to-use menu for optimal control of all settings and functions
Power supply: Inclusive power supply and 1 watt battery (Typ BYD SCD 530-1, Ausgang 3.7 V, 950 mAh [3.5 Wh])
Item Description: Battery life with 4 x 1.5 V AA Alkaline Batteries or mittels with a load of 230 V (DC Jack-Stecker)
Special service from NUK:
NUK offers an open hotline for technical support, spare parts, complaints and product questions.
Note:
NUK's Eco Control plus Video intercom system has a CEE 7/16 plug.