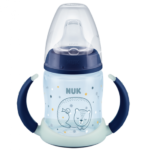 NUK First Choice Learner Bottle Night Blue 150ml, silicone nozzle 6-18m 150ml (10.743.910)
Sale!
NUK First Choice Learner Bottle Night Blue 150ml, silicone nozzle 6-18m 150ml (10.743.910)
Με Φ.Π.Α
-13%
| | |
| --- | --- |
| Weight | 0,12 kg |
| Κατασκευαστής | |
| MPN | 4008600372486 |
Available from 4 to 10 days
NUK First Choice Night Training Bottle, 150ml, leakage protection, 6-18 months, BPA-free, 1 piece
A star is born at night
Sssss… Let mom and dad sleep… It's a great success when your baby learns to drink on his own! Especially at night! Thanks to the new training bottles that glow in the dark, this developmental step becomes even easier! For your little one and for you!
The shining parts make the bottle stand out in the dark so the baby can find it very easily, without waking mom and dad. All you have to do is put the training bottle under a lamp or in the sunlight. Its special material stores energy and emits it in the form of a soft glow. All night *
Like any other NUK baby shower, NUK training bottles, which glow in the dark, provide protection against leaks so that the bed stays dry and warm. And of course they are available in a variety of enchanting colors and designs – specially designed for a night full of beautiful dreams.
* Shines up to 8 hours
NUK First Choice Training Bottle
When your baby is in infancy, the NUK First Choice training bottle helps him to move smoothly from breastfeeding or bottle feeding to the autonomous use of the glass. NUK Silicone's First Choice soft nozzle is pleasantly soft and does not drip. It has the NUK Air System, which compensates for the empty air inside the bottle. This prevents colic and discomfort when the baby swallows air.
With high quality silicone nozzle
NUK silicone nozzles are made of high quality synthetic material. The transparent silicone material is easy to wash and is highly resistant to high temperatures. It does not contain harmful substances, it is resistant to boiling, odorless, transparent and has a smooth surface – that is, it has all the advantages of a good muzzle.
Stable grip for children's hands
The handles are ergonomically designed and have non-slip protrusions.
It is easy to wash and is ideal for preparing baby food
The training bottle made of synthetic material with a capacity of 150 ml has the proven quality elements of the First Choice series such as large diameter mouthpiece, screw ring, cap and protective cap. All components are easily removed from the bottle, making it easy to clean the bottle and prepare the baby food.
The NUK First Choice training bottle can be combined with all the other products in the NUK First Choice series.