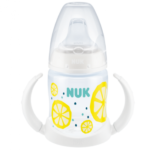 NUK First Choice Learner Bottle with Fruits Yellow Temperature Control Index 150ml (10.215.354)
NUK First Choice Learner Bottle with Fruits Yellow Temperature Control Index 150ml (10.215.354)
7,90 € Με Φ.Π.Α
| | |
| --- | --- |
| Weight | 0,18 kg |
| Κατασκευαστής | |
| MPN | 4008600310570 |
Available from 1 to 3 days
3 in stock (can be backordered)
NUK Fruits First Choice Training bottle with Temperature Control Index, 150ml, leakage protection, 6-18 months, without BPA
NUK Fruits: The vitamin-rich special edition!
Fresh fruit is the key to a healthy diet for young and old. As the special edition NUK Fruits Limited Edition shows, they are extremely tasty and beautiful! The refreshing look of colorful yellow lemons and pink grapefruits not only lifts your spirits, but prepares you for summer. Whether it is a bottle or a glass or a pacifier: the cute letters combined with the colorful fruit patterns create a sweet design – with an extra dose of vitamin C!
The right temperature, even when you're steaming – NUK First Choice Temperature Control Bottle
It's so enjoyable! When you are steamed a little extra security is so welcome! When your baby is in infancy, the NUK First Choice Training Bottle with Temperature Control Index helps him to move smoothly from breastfeeding or bottle feeding to the autonomous use of the glass.
NUK First Choice training bottles with Temperature Control Indicator show at a glance when the contents of the bottle have the right temperature. If the drink is too hot, the blue indicator turns white. Ideally, the temperature of the food should be identical to the body temperature (37 ° C) and correspond to the indication with the middle blue hue.
Important: The NUK Temperature Control Index is considered an additional control. That is why the temperature of the food must be controlled by hand before the actual feeding. To control the food, a few drops on the inside of the fruit are enough.
With high quality silicone nozzle
The NUK First Choice training bottle has a silicone nozzle that is pleasantly soft and protects against leaks. The built-in anti-colic air escape system ensures the natural flow of fluid. This way your baby can drink easily without swallowing air at the same time. The transparent silicone material is easy to wash and is highly resistant to high temperatures. It does not contain harmful substances, it is resistant to boiling, odorless, transparent and has a smooth surface – that is, it has all the advantages of a good muzzle.
Stable grip for children's hands
The handles are ergonomically designed and have non-slip protrusions.
It is easy to wash and is ideal for preparing baby food
The training bottle made of synthetic material with a capacity of 150 ml has the proven quality elements of the First Choice series such as large diameter mouthpiece, screw ring, cap and protective cap. All components are easily removed from the bottle, making it easy to clean the bottle and prepare the baby food.
The NUK First Choice training bottle can be combined with all the other products in the NUK First Choice series.