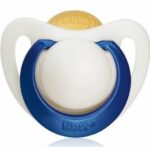 Nuk Genius Rubber Blue 0-6m 1pc (10.725.200)
Nuk Genius Rubber Blue 0-6m 1pc (10.725.200)
2,50 € Με Φ.Π.Α
| | |
| --- | --- |
| Weight | 0,00 kg |
| Κατασκευαστής | |
| MPN | 4008600110774 |
Available from 1 to 3 days
1 in stock (can be backordered)
In collaboration with the doctor of dentistry Dr. med. dent. von Treuenfels and taking advantage of the latest developments in medicine and technology, we managed to design a pacifier that is not limited to calming the child but also contributes to his overall healthy development. As shown in the picture, the innovation is in the detail.
Extremely soft
Maximum softness and flexibility: the built-in soft ducts along the nipple minimize the pressure on the jaw and teeth.
More space
The special concave shape ensures the maximum possible space for the movements of the tongue.
Natural shape
The orthodontic shape of the NUK pacifier resembles the mother's breast when breastfeeding.
NUK AIR SYSTEM
Air can escape when the nipple is compressed. In this way the pacifier remains soft and pliable and adapts ideally to the child's oral cavity so as not to cause malformations in the jaw.