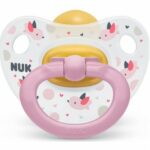 Nuk Happy Kids Classic Orthodontic Pacifier Rubber 0-6 Months 1pc (10.726.022)
Sale!
Nuk Happy Kids Classic Orthodontic Pacifier Rubber 0-6 Months 1pc (10.726.022)
Με Φ.Π.Α
-16%
| | |
| --- | --- |
| Weight | 0,04 kg |
| Κατασκευαστής | |
| MPN | 4008600319030 |
Available from 1 to 3 days
9 in stock (can be backordered)
Orthodontic shape NUK
Anatomically shaped shield made of high quality plastic
Rubber nipple
1 piece per package
When a baby kicks, grabs objects, lifts its head or sucks on its pacifier, it performs some of its daily "training" exercises, as the muscles of its legs and arms, back and face need to be developed and exercised. Proper coordination of tongue movements, strong jaw muscles and a properly formed palate is an important prerequisite for healthy, smooth breathing, uninterrupted food intake and, subsequently, speech development.
NUK Happy Kids pacifier with NUK orthodontic shape has a high quality plastic anatomical shield and is available in classic favorite designs. All NUK pacifiers have the NUK Air System. This means that air escapes from the nipple through a valve. Thus the pacifier remains soft and flat enough so as not to cause malformations in the jaw. The rubber is extremely elastic and durable, has high resistance to pulling and tearing, is very flexible and environmentally friendly, while at the same time does not carry a static load, ie does not pull dust. In addition, it is disposed of in an environmentally friendly manner.
For the healthy development of the oral cavity:
NUK Happy Kids pacifier – an important "fitness instrument" for young champions.
Colors & Designs:
Available in various colors.
The plans are indicative and may change.
If you want a specific color, please indicate it in the comments of your order! Based on availability, we will try to serve you in the best possible way.
The designs and colors are constantly changing. Shipping is based on the availability of colors and designs.