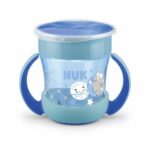 Nuk Magic Cup Mini Night Glass with Lip and Lid that Glows in the Dark Blue 6m +, 160ml (10.751.352)
Sale!
Nuk Magic Cup Mini Night Glass with Lip and Lid that Glows in the Dark Blue 6m +, 160ml (10.751.352)
Με Φ.Π.Α
-16%
| | |
| --- | --- |
| Weight | 0,15 kg |
| Κατασκευαστής | |
| MPN | 4008600372493 |
Available from 1 to 3 days
2 in stock (can be backordered)
NUK Mini Magic Cup Night
Glass with Rim and Lid that Glows in the Dark
360 ° perimeter learning edge that can be used from any side.
With ergonomic handles for secure grip – glow in the dark *
Capacity 160ml liquid, for children from 6 months.
Leakage protection, with protective cover for your movements, without BPA (BPA free).
A star is born at night!
Sssss… Let mom and dad sleep… It's a great success when your baby learns to drink on his own! Especially at night! Thanks to the new NUK Mini Magic Cup that glows in the dark, this development step becomes even easier! For your little one and for you!
The shining parts make the glass stand out in the dark so the baby can find it very easily, without waking mom and dad. All you have to do is put the NUK Mini Magic Cup, which glows in the dark, under a lamp or in the sunlight. Its special material stores energy and emits it in the form of a soft glow. All night *
Like any other NUK glass, the NUK Mini Magic Cups, which glow in the dark, provide protection against leaks so that the bed stays dry and warm. And of course they are available in a variety of enchanting colors and designs – specially designed for a night full of beautiful dreams.
Your baby is learning to drink while holding on!
The NUK Mini Magic Cup allows even the youngest children to drink like the older ones. The 360 ​​° perimeter learning lip supports and teaches your baby to drink from all sides, as if he were drinking from a regular glass. The "magic" difference: the glass prevents leaks, thanks to the silicone tray that seals the lid from the inside. Thus, drinking becomes a toy for children: it is enough for your child to put pressure with his mouth on the rim of the glass.
In addition, the glass is very small and easy to use. Thanks to its ergonomic handles, it can be easily adjusted to your baby's little fingers and hands. Plus, the NUK Mini Magic Cup stays clean and safe everywhere, thanks to the extra lid that protects it.
NUK Mini Magic Cup – Drinking like big kids is now easy for the little ones too!
The glass is made of high quality, durable materials, 100% BPA free and is decorated with cute designs. It is deliberately made of minimal components, which can be easily disassembled and reassembled. All components are easily and efficiently cleaned.
NUK Evolution Cups – The right glass for every developmental stage!
Learning to drink independently is one of the most important steps in a baby's development and is a real challenge in terms of patience and skill. That's why we designed the evolutionary NUK Evolution Glasses: Glasses in two sizes, which can be combined with different lids, following the development of your child. This series of glasses provides the right glass with a variety of possibilities for combinations, depending on the developmental stage.
Each cap is specially designed to fit a different training stage and can be easily replaced as the baby's abilities increase. All caps provide 100% leakage protection. This way, your child always has the support he needs, while at the same time learning to drink while having fun.
* Shines up to 8 hours.