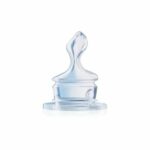 NUK nipple Classic 0-6m silicone, against colic Medium hole food M, 1 pc (10.709.123)
Sale!
NUK nipple Classic 0-6m silicone, against colic Medium hole food M, 1 pc (10.709.123)
Με Φ.Π.Α
-19%
| | |
| --- | --- |
| Weight | 0,05 kg |
| Κατασκευαστής | |
| MPN | 4008600023500 |
Available in store / Delivery 1 to 3 days
8 in stock (can be backordered)
NUK Classic Silicone Nipple No 1 0-6 Months Medium Feed Hole
Tested in practice by generations and generations
Typical orthodontic shape NUK
Fits all NUK Classic baby bottles
Orthodontic result in a natural way
The mother's nipple changes shape during breastfeeding. It adapts to the baby's mouth, allowing for optimal food intake and providing the best possible exercise for the jaws, palate, tongue and lips.
First of all, NUK designed a nipple shape based on the orthodontic shape of the nipple during breastfeeding.
The NUK anti-colic air escape system compensates for the pressure on the nipple, reducing the risk of colic when the baby swallows air.
Inspired by nature: The original shape of the NUK nipple
The mouth plays a key role in your child's overall healthy development. Breathing, nourishment, sensory perception – all of these require perfect coordination between the jaws, tongue and lips. Breastfeeding is the best possible training for these functions after birth. By breastfeeding, the baby learns to coordinate his movements, strengthens his muscles and prepares his mouth for his subsequent tasks – teething, chewing and, of course, speech.
The NUK orthodontic nipple was developed based on this knowledge. Even if you stop breastfeeding, this nipple supports your baby's development in the most natural way.
The medical basis behind this product was developed by two dentists, Professor Balters and Dr. Müller. They first noticed that the mother's nipple changes shape during breastfeeding and that this is the only way to achieve optimal coordination in the baby's mouth. This special, asymmetrical shape has been the standard for all NUK nipples to date.
NUK has been researching the right nipple shape down to the smallest detail for many decades, developing it further and adapting it over and over again with each new medical discovery. No other nipple mimics the natural process of breastfeeding, supporting the proper development of the mouth, like the original NUK nipples.