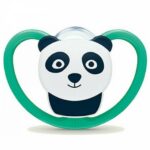 Nuk Space Silicone Pacifier 18-36m without ring, in case, 1 pc (10.739.511)
Sale!
Nuk Space Silicone Pacifier 18-36m without ring, in case, 1 pc (10.739.511)
Με Φ.Π.Α
-14%
| | |
| --- | --- |
| Weight | 0,05 kg |
| Κατασκευαστής | |
| MPN | 4008600317777 |
Available from 1 to 3 days
6 in stock (can be backordered)
Nuk Space Silicone 6-18 1pc
Our smaller babies not only have a point of view from the first moment, but also completely different physical characteristics. The young and tender skin of babies is particularly sensitive. NUK has designed the new NUK Space Silicone Pacifier to protect baby skin in the best possible way and ensure maximum comfort for your little one at all times. The pacifier impresses with its particularly piped and thin nipple, which offers ample space for natural mammalian movement. Thus, the NUK Space Pacifier fits in the best way in the baby's mouth.
More than 95% of babies accept NUK Pacifier. The NUK Space Pacifier also has very wide ventilation holes that ensure maximum air circulation and thus allow the baby's sensitive skin to breathe. For this reason, 99% of mothers would recommend the NUK Space Pacifier for babies with sensitive skin.
The NUK Space Pacifier is available in various designs. The cute 3D animal designs are available in a space-saving package that you can also use as a carrying case. Just let the animals hide in your bag or diaper bag for a while: this way you will have the NUK Space Pacifier ready, to give it to your baby at the right time. The carrying case is also suitable for microwave sterilization. So, you can enjoy your Zoo Nipples for a long time.
The designs on the pacifiers are indicative and can be changed at any time, if you want a specific design please write it in the notes of your order.

Improved innovative NUK shape – is modeled on the nipple during breastfeeding and thus has the best possible fit in the baby's mouth
Extremely wide ventilation holes allow maximum air circulation and allow the skin to breathe – so the pacifier is perfect for sensitive baby skin
The thinner and narrower neck of the nipple reduces pressure on the jaw and teeth
Durable, reusable carrying case
without BPA (BPA-free)
1 piece per package.