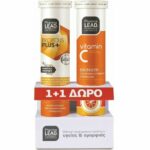 NutraLead Propolis Plus + Echinacea Vit C and manuka honey + Vit C 550mg 2 x 20 effervescent tablets PROMO PACK 1 + 1
Sale!
NutraLead Propolis Plus + Echinacea Vit C and manuka honey + Vit C 550mg 2 x 20 effervescent tablets PROMO PACK 1 + 1
Με Φ.Π.Α
-60%
| | |
| --- | --- |
| Weight | 0,22 kg |
| Κατασκευαστής | |
| MPN | 5205352012243 |
Available in store / Delivery 1 to 3 days
20 in stock
Propolis, Manuka Honey, Echinacea, Zinc, Vitamins C & D3
Immune system health

Antioxidant action

From 12 years and over

Suitable for homeopathy

Contains no gluten, lactose, preservatives

No added sugar

Lemon taste
PharmaLead Propolis Plus Immune Protect is a dietary supplement with propolis, Manuka honey, echinacea, vitamins C & D3 and zinc to strengthen the immune system, as well as to prevent and treat the common cold.
Echinacea is an herb traditionally used to prevent & treat the symptoms of the common cold (Approved by the European Union Committee on Herbal Medicinal Products-EMA / HMPC).
Propolis is the resinous substance that bees collect to seal and disinfect the hive. Rich in flavonoids, phenols and terpenes, which give it unique properties in stimulating the body's defenses and especially the mouth & nasopharyngeal system (The above information about the ingredients of the product are the results of studies. They are not an EFSA opinion).
Vitamins C, D and zinc contribute to the normal functioning of the immune system *
Vitamin C & zinc help protect against oxidative stress *
Zinc contributes to normal thyroid function, normal cognitive function and the maintenance of normal testosterone levels in the blood *
Vitamin C contributes to the normal formation of collagen for the normal functioning of bones, cartilage, teeth, gums, skin and blood vessels *
Vitamin D contributes to the absorption / utilization of calcium and phosphorus, the normal condition of bones and teeth and the normal function of muscles *
* The above are official health claims from the European Food Safety Authority (EFSA).
Free Vitamin C 550 mg 20 eff tabs!
Dosage
1 effervescent tablet daily.
Instructions for use
Take dissolved in a glass of water (200 ml).
Precautions
Do not exceed the recommended daily dose.
Keep out of the reach and sight of children.
Store in a dry place at room temperature.
Contraindications-Interactions
Do not take by persons under 12 years of age.
Gluten Free
Lactose Free
No. Acquaintance EOF: 77326 / 1-9-2014. The notification number to the AEO does not constitute a marketing authorization of the AEO.