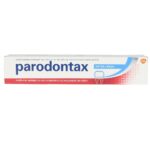 Parodontax Extra Fresh For Bleeding Gums 75ml
Sale!
Parodontax Extra Fresh For Bleeding Gums 75ml
Με Φ.Π.Α
-33%
| | |
| --- | --- |
| Weight | 0,12 kg |
| Κατασκευαστής | |
Available from 1 to 3 days
15 in stock (can be backordered)
Toothpaste For Bleeding Gums
If you see blood while brushing or flossing, it could be a sign that you have a gum problem.
The toothpaste Parodontax Original is one fluoride toothpastefor daily use that is clinically proven that helps to prevention and treatment of bleeding gums. It is specially designed to help you address the cause of bleeding gums, fighting it bacterial plaque along the gum line and helping to maintain tight gum line. It is suitable for daily use, strengthens the teeth and freshens the breath.
INGREDIENTS
Contains Sodium Fluoride 0.31% w/w
USE
Brush twice a day and no more than three times minimizing ingestion and rinse. Not to be used by children under 12 years of age. Keep away from children. If symptoms persist in adults or children with bleeding gums, consult a dentist. In case of irritation, discontinue use.
If you notice swelling in your mouth or face, see a dentist or doctor.
*compared to a common toothpaste after cleaning and brushing twice a day.
| | |
| --- | --- |
| NEED | ΚBAD MOUTH, PERIODONTIS, GUMITIS – PERIODONTITIS |