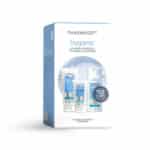 Pharmasept Hygienic PROMO PACK with Exfoliating & Cleansing Scrub 200ml, Hand Cream 75ml & FREE Shower Gel 250ml
Pharmasept Hygienic PROMO PACK with Exfoliating & Cleansing Scrub 200ml, Hand Cream 75ml & FREE Shower Gel 250ml
16,50 € Με Φ.Π.Α
| | |
| --- | --- |
| Weight | 0,75 kg |
| Κατασκευαστής | |
Available from 1 to 3 days
7 in stock
Hygienic Cleansing Scrub for Face & Body
Gentle exfoliating and cleansing scrub for face and body, enriched with Pharmasept's patented cleansing system.
Rich composition with natural microgranules, antioxidants, moisturizing and cleansing agents that stimulate and rejuvenate the skin.
The natural Apricot & Rice microgranules, of low irritation, offer a beneficial peeling to the skin, leaving it smooth and soft.
At the same time, propolis extract and gentle cleansing agents, combined with Pharmasept's patented cleansing system, provide mild antiseptic action and gentle cleansing to the skin.
Hyaluronic acid and biomimetic phospholipids from coconut oil help strengthen the epidermal barrier, creating a moisturizing film that gives the skin a velvety texture.
Grape extract, with its antioxidant properties, protects against environmental pollutants, while the mild soothing effect of allantoin helps to avoid possible skin irritations.
Hygienic Intensive Care Moisturizing Hand Cream
Cream for hard, cracked and damaged hands, also suitable for cracked elbows.
Rich in 10% urea and fruit acids that offer enhanced moisturizing, keratolytic and restorative action.
Urea 10% in combination with hyaluronic acid, Kelifluo and slantoin offer a moisturizing effect and intensive care for dehydrated hands.
Fruit acids (AHA), thanks to their mild exfoliating action, remove the rough surface of the skin, offering a softer and velvety texture.
The extracts of calendula, aloe Vera and vitamin E provide a mild soothing effect on possible irritations and help to restore the elasticity of the skin.
Hygienic Shower Shower Foam for Daily Use
Foaming shower for daily use, with a patented deodorizing system, suitable for body, face & sensitive area.
Specially designed composition, without alkalis & soap, with pH 5.5 and plant extracts that respect the physiological balance of the epidermal barrier.
It gives softness, without drying or irritating the skin.
Pharmasept's patented system offers proven long-lasting deodorant action and clean perspiration of the skin.
Natural bisabolol and cleansing agents provide a mild antiseptic effect on the skin.
Wheat proteins and provitamin B5 contribute to hydration and maintaining skin elasticity.
The extracts of calendula, Aloe Vera & allantoin, with beneficial properties for the skin, help to relieve the skin from any irritations and redness, giving softness.