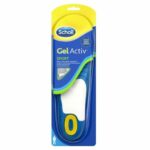 Scholl Gel Activ Sport Men's Anatomical Insoles (No 40-46.5)
Sale!
Scholl Gel Activ Sport Men's Anatomical Insoles (No 40-46.5)
Με Φ.Π.Α
-15%
| | |
| --- | --- |
| Weight | 0,30 kg |
| Κατασκευαστής | |
| MPN | 5052197038064 |
| Μέγεθος | One-Size |
Available from 1 to 3 days
1 in stock
Sports activities have many benefits for our health, but unfortunately they can also cause foot problems. The new GelActiv Sport anatomical insoles from Scholl are specially designed to absorb the vibrations and pressure exerted on the front of the sole by sports activities, thus reducing the strain on the joints. At the same time, the white plastic part supports the arch, offering the foot the necessary stability.
They can be used in any type of sports shoe (running, basket, tennis, etc.).
GelActiv technology
GelActiv technology provides high anti-vibration protection (compared to the existing soles of your shoes) and comfort on the feet through a combination of gel pads that offer unique benefits. Their special design is particularly effective in absorbing vibrations, reducing the pressure caused by walking and daily activities on the soles, giving comfortable and relaxed feet throughout the day.
Instructions for use:
1. Remove the soles that are already on your shoes.
2.Cut the Scholl GelActiv Sport Comfort Insoles along the marked lines depending on the size of your shoe. Line A corresponds to shoe number 42, B to 43, C to 44, D to 45 and E to 46. The full length of the sole corresponds to number 48. You can easily use the existing insoles of your shoes as a guide.
3.Put the Scholl GelActiv Sport Comfort Insoles on your shoes, with the JEL side facing DOWN. Each bottom indicates which foot it is for: L for the left, R for the right.
4. Replace the soles when you notice signs of wear. Our suggestion is to do this about every 6 months.
5. To clean the soles, use a damp cloth with a little soap. Do not put them under water.