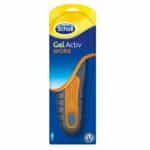 Scholl Gel Activ Work Professionels Men's Insoles (No 40-46,5) 2pcs
Sale!
Scholl Gel Activ Work Professionels Men's Insoles (No 40-46,5) 2pcs
Με Φ.Π.Α
-35%
| | |
| --- | --- |
| Weight | 0,30 kg |
| Κατασκευαστής | |
| MPN | 5052197038125 |
Available from 1 to 3 days
1 in stock (can be backordered)
Gel Activ Work Men's Insoles (No42-46,5) – 2pcs.
Specially designed insoles to offer comfort to "hard working feet", they effectively relieve the pressure exerted on the feet, especially in cases of intense standing.
They are suitable for use in work shoes and where else immobility and standing create pain or numbness in the foot.
Gel Activ technology
Technology that provides high anti-vibration protection (compared to existing shoe soles) and foot comfort through a combination of gel pads that offer unique benefits. Their special design is particularly effective in absorbing vibrations, reducing the pressure caused by walking and daily activities on the soles, giving comfortable and relaxed feet throughout the day.
Basic features
With holes that allow the foot to breathe.
They are cut to the desired size.
Anatomical design for comfort all day.
IMPLEMENTATION TIPS
Remove the existing soles of your shoes.
Cut the Gel Activ insoles along the marked lines depending on the size of your shoe. Line A corresponds to No42, B to No43, C to No44, D to No45 and E to No46. The full length of the bottom corresponds to No48.
Place the soles on your shoes with the Gel side facing down.
Each bottom indicates for which foot it is: L for left, R for right.
Replace the soles when you notice signs of wear. It is recommended to change them every 6 months.
Cleaning: use a damp cloth with a little soap. Do not put them under water.