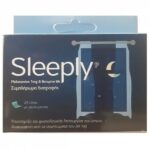 Sleepy mint-flavored melatonin strips for insomnia 24 strips
Sale!
Sleepy mint-flavored melatonin strips for insomnia 24 strips
Με Φ.Π.Α
-21%
| | |
| --- | --- |
| Weight | 0,05 kg |
| MPN | 8437016502037 |
Available from 1 to 3 days
6 in stock (can be backordered)
Sleepy 24 strips
Sleepy 24 strips nutritional supplement with melatonin and vitamin B6. Supports the normal function of sleep, helps treat insomnia and jet lag symptoms. It is administered in the form of strips that dissolve in the mouth and thus ensure immediate absorption by the body in just 10 minutes. With mint flavor
Sleepy 24 strips contain melatonin and vitamin B6
Melatonin is an effective aid for those who have difficulty sleeping. Helps reduce the time required to sleep and relieves the subjective feeling of time lag of the biological clock due to long trips (jet lag). It is highly recommended for older people who have objective difficulty sleeping.
Vitamin B6 helps the normal functioning of the nervous system.
Dosage:
For normal sleep: Take a movie before bed
For jet lag: Take 1 film before bed on the first day and continue for a few more days after reaching your destination.
The film dissolves in the mouth without water.
Composition per film
Melatonin: 1 mg
Vitamin B6: 1mg
Caution:
Take only by mouth
Keep it in a shady and cool place, away from children.
If you are pregnant, breast-feeding, taking medication or have any health problems, talk to your doctor before taking this medicine.
Do not exceed the dosage
Gnostop.EOF: 100932 / 6-10-2020
Packaging Content:
24 movies