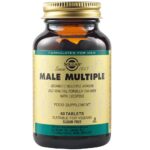 Solgar Formulated for Men Male Multiple 60 tablets
Sale!
Solgar Formulated for Men Male Multiple 60 tablets
Με Φ.Π.Α
-41%
| | |
| --- | --- |
| Weight | 0,35 kg |
| Κατασκευαστής | |
Available in store / Delivery 1 to 3 days
10 in stock
Male Multiple 60 Tablets

Unique formula, specially prepared for the needs of the modern man
Advanced phytonutrient formula
Multivitamin and mineral formula for men
Contains no sugar, ideal for people following a strict vegetarian diet, vegetarians, Kosher
Increases overall energy
No. Prot. EOF Notification: 65593/29.09.2010
Solgar® Male Multiple belongs to Solgar's premium quality men's health products. This advanced multi-nutrient complex is a carefully formulated formula tailored specifically to the nutritional needs of men. Just three Tablets a day provide an advanced multivitamin formula with 26 nutrients, specially designed to nutritionally meet men's busy daily lives. It includes phytochemicals, vitamins B6, B12, niacin and pantothenic acid, which contribute to active metabolism and the reduction of tiredness and fatigue.
Sale Multiple Tablets by Solgar is free of yeast, wheat and dairy, and no artificial preservatives or flavors were used in its preparation. It is suitable for strictly vegetarians. Male Multiple Tablets is available in a package of 60 and 120 tablets and strengthens:
Heart health, with thiamine which contributes to normal heart function and choline which contributes to normal homocysteine metabolism
Boosting energy, with biotin, iron, magnesium and vitamin B1, which contribute to active metabolism and folate, niacin and vitamins B12, B6 and C which contribute to the reduction of tiredness and fatigue
Brain function, as iodine and zinc contribute to normal mental function
Collagen for healthy joints, with vitamin C that contributes to the normal creation of collagen
Healthy bones and teeth with calcium, magnesium, manganese, vitamin C and zinc, essential ingredients for maintaining healthy bones
The immune system with copper, folic acid, selenium, vitamins B12, B6, C, D and zinc, which contribute to the normal functioning of the immune system
Digestion with calcium, which contributes to the normal functioning of digestive enzymes
Mental concentration with biotin, folic acid, magnesium, niacin, vitamin B12, vitamin B6 and vitamin C, which contribute to normal psychological function
The emergence of antioxidants that help fight free radicals, with copper, manganese, selenium and vitamin C, which help protect cells from oxidative stress
All Solgar® products meet our industry's recognized 'Gold Standard' standards of excellence. All Solgar® products are made from naturally derived ingredients and pioneered since 1947, and are the ideal dietary supplement for good health – 98% of Solgar® consumers recommend this brand*