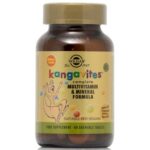 Solgar Kangavites Formula Dietary supplement Raspberry 60tabs.
Sale!
Solgar Kangavites Formula Dietary supplement Raspberry 60tabs.
Με Φ.Π.Α
-42%
| | |
| --- | --- |
| Weight | 0,25 kg |
| Κατασκευαστής | |
Available from 1 to 3 days
1 in stock
Kangavites Natural Orange Burst Vitamin C 100 mg 60 Chewable Tablets

Special formula for children (and parents)
Formulated to strengthen children's immune system and develop bones and teeth
It provides a variety of important vitamins and minerals, as well as natural food-grade ingredients
Delicious chewable tablet with natural berry flavor
People who follow a strict vegetarian diet, Vegetarians
No. Πρωτ. EOF Notification: 59034/12.9.2007
Solgar® Kangavites® is a multivitamin and mineral chewable formula suitable for children over 3 years of age. All Kangavites® products are meticulously formulated, based on nutritional science and expertise, to support healthy lifestyles in children.
With 28 active ingredients that include nutrients such as calcium, magnesium, iron, iodine and vitamins C, D and B, Kangavites multivitamin and mineral product, combined with a healthy and balanced diet, is an excellent way to enhance growth and development of the children.
Calcium and vitamin D are essential for the normal function and development of bones in children
Iodine contributes to the normal development of children
Iron contributes to the normal intellectual development of children
Vitamin D contributes to the normal functioning of the children's immune system.
All Solgar® products meet our industry's recognized 'Gold Standard' standards of excellence. All Solgar® products are made from naturally derived ingredients and pioneered since 1947, and are the ideal dietary supplement for good health – 98% of Solgar® consumers recommend this brand*