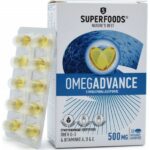 SUPERFOODS – Omegadvance 500mg, 30 soft capsules
Sale!
SUPERFOODS – Omegadvance 500mg, 30 soft capsules
Με Φ.Π.Α
-15%
| | |
| --- | --- |
| Weight | 0,15 kg |
| Κατασκευαστής | |
| MPN | 5213006870538 |
Available from 1 to 3 days
1 in stock (can be backordered)
Superfoods Omegadvance Nutritional Supplement
with High Quality & Purity Fish Oil 500mg
Omegadvance is a fish oil with a high content of polyunsaturated omega-3 fatty acids. It is a particularly rich source of EPA (eicosapentaenoic acid) and DHA (eicosapentaenoic acid), which act synergistically to help maintain normal vision, normal brain and heart function.
Contains 500 mg of fish oil of high quality and purity. Contains Ω-3 unsaturated fatty acids and, in addition, vitamin A that helps maintain normal vision, vitamin E that helps protect cells from oxidative stress and vitamin D that helps normalize bones.
Recommended in:
Supplements in the context of a balanced diet as a source of Ω3, vitamins A, D & E
USE
Take 1-2 capsules daily with food or as directed by your doctor or pharmacist.
Do not exceed the recommended daily dose. Dietary supplements should not be used as a substitute for a balanced diet.
Store the product in a cool and dry place (
Composition

Amount per capsule ***% N.R.V. *
Fish oil 500mg – **
EPA (eicosapentaenoic acid 100mg – **
DHA (twenty-hexaenoic acid 250mg – **
Vitamin A 800mg 100% *
Vitamin E 12mg 100% *
Vitamin D (D3) 5mg 100% *
Fish oil, retinyl palmitate, DL-alpha-tocopherol acetate, cholecalciferol, glycerin, gelatin, aqua.