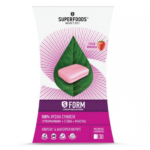 Superfoods S Form Nutritional Supplement for Weight Loss and Management, 30 Chewable Candies
Superfoods S Form Nutritional Supplement for Weight Loss and Management, 30 Chewable Candies
21,59 € Με Φ.Π.Α
| | |
| --- | --- |
| Weight | 0,15 kg |
| Κατασκευαστής | |
| MPN | 5213006870811 |
Available from 4 to 10 days
Superfoods Form Weight Loss & Weight Management Strawberry Flavor
The Konjac plant grows throughout Japan, China and Southeast Asia, has been used for more than 1000 years and is considered a food with the richest sources of soluble fiber.
The Glucomannan contained in the root of the Konjac plant has the property of absorbing a large amount of water. In this way, it forms a> in the stomach, causing satiety, resulting in the intake of less food and therefore calories. It is a natural ally in weight loss * and weight management.
* The beneficial results are ensured by the daily intake of 3g of glucomannan in 3 doses of 1g each, together with 1-2 glasses of water, before meals and in the context of a reduced calorie diet.
Use:
Take 1 piece of chewing gum 3 times a day, half an hour before a meal, along with 1-2 glasses of water (250ml). ensure that the substance reaches the stomach. Excessive consumption can have a laxative effect.
Components:
Sweeteners: maltitol syrup and steviol glycosides, glucomannan 16.6%, essential oils (palm), fruit powder 1% (strawberry), acidifier: citric acid, natural aromas, emulsifier: sunflower lecithin, salt, color.
May contain traces of Gluten, Milk, Egg.
Packaging: 30 chewable candies