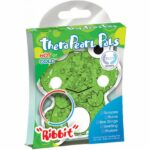 TheraPearl Frog Children's Water Heater-Ice 8.9cm x 11.4cm 1pc
Sale!
TheraPearl Frog Children's Water Heater-Ice 8.9cm x 11.4cm 1pc
Με Φ.Π.Α
-50%
| | |
| --- | --- |
| Weight | 0,15 kg |
| Κατασκευαστής | |
| MPN | 814892020769 |
Available from 1 to 3 days
1 in stock (can be backordered)
THERA ° PEARL® pals will help you deal with children's accidents.
Provides relief from:
Inks
Swelling
Headache
Insect bites
Instructions for use:
Cryotherapy – Freeze for at least 2 hours.
Heat therapy – heat in microwave based on the time and power indications listed below.

The thermocouple / ice pack is designed to maintain the therapeutic temperature for approximately 20 minutes. Wait at least 20 minutes before applying again. If necessary, reapply the product for 20 minutes.

Precautions:
Always check the temperature of the product before application.
Prolonged application can cause injury in the form of burns.
Do not use in infants.
Do not use if you have poor blood circulation.
Do not use heat therapy on stitches or open wound.
Do not fall asleep while using the product.
Use only under adult supervision.
For excessive, prolonged or chronic pain, seek medical advice.
Use it only for its intended purpose.
Ηeating beyond the recommended time may damage or damage the THERA ° PEARL® package.
Do not puncture the package and / or swallow the contents.

For external use only.