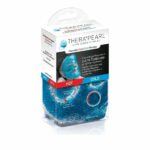 TheraPearl Water heater-Ice pack For the face with strap (Face Mask) 45.2 X 24.1 cm
Sale!
TheraPearl Water heater-Ice pack For the face with strap (Face Mask) 45.2 X 24.1 cm
Με Φ.Π.Α
-50%
| | |
| --- | --- |
| Weight | 0,30 kg |
| Κατασκευαστής | |
| MPN | 814892021186 |
Available from 1 to 3 days
2 in stock (can be backordered)
Water heaters – Ice pack
For the waist
Flexible
It fits perfectly
With lashing strap.
Thera Pearl Medium Hot Cold is a reusable therapeutic heat / ice pack for everyday pain. Practical for immediate application. Ergonomically designed, for immediate relief.
Relief from back pain, back pain, sciatica, period pains.
Instructions for use:
Cryotherapy – Freeze for at least 2 hours.
Heat therapy – heat in microwave based on the time and power indications listed below.
Recommended heating time: 700 W ~ 45 seconds 1000 W ~ 35 seconds 1250 W ~ 35 seconds. The thermocouple / ice pack is designed to maintain the therapeutic temperature for approximately 20 minutes. Wait at least 20 minutes before applying again. If necessary, reapply the product for 20 minutes.
Precautions:
Always check the temperature of the product before application. Overheating or prolonged application can also cause injury in the form of burns. For external use only. Do not use in infants. Do not puncture the package and / or swallow the contents.
Do not use on sensitive skin, skin that has lost its sensitivity, or on an open wound. Do not use it for purposes other than that for which it was intended. Do not fall asleep while using the product. Use only under adult supervision.
Heating beyond the recommended time may damage or damage the THERA ° PEARL® package. For excessive, prolonged or chronic pain, seek medical advice.