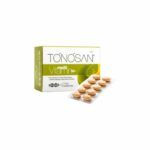 Tonosan MultiVitamin 50+ – Multivitamin, for people over 50, 60 tabs
Sale!
Tonosan MultiVitamin 50+ – Multivitamin, for people over 50, 60 tabs
Με Φ.Π.Α
-27%
| | |
| --- | --- |
| Weight | 0,20 kg |
| Κατασκευαστής | |
| MPN | 5206938002689 |
Available from 4 to 10 days
With coenzyme Q10, Ginkgo biloba, vitamins, minerals, trace elements, carotenoids & amino acids
Specially designed product for adults aged 50 and over as it complements their daily needs for nutrients that enhance the maintenance of good heart, immune system, memory, brain function, vision and bones. At the same time, it contributes to the maintenance of energy, vitality and good psychology of people of this age.
TONOSAN® multiVitamin 50+:
boosts energy production and reduces oxidative damage to the brain by providing coenzyme Q10 (1,2)
helps improve blood circulation in small and peripheral blood vessels, improves memory and concentration as well as quality of life especially in dementia conditions thanks to the supply of Ginkgo biloba extract (3)
enhances performance related to the ability to learn, concentrate, pay attention and memory by supplying iron, iodine, carnitine (4) as well as the amino acids, Glutamine & Serine (5).
strengthens the normal function of the immune system thus strengthening the body to cope more effectively in times of illness
reduces fatigue & tiredness
protects the cardiovascular system and eyes from oxidative damage, slowing down macular degeneration by supplying carotenoids (6)
maintains normal blood glucose levels thanks to chromium
supports the healthy condition of bones and teeth on a daily basis
Its composition offers ingredients that have health claims approved by the European Food Safety Authority (EFSA) or are supported by publications in world-renowned scientific journals.
2 tablets a day are recommended as a dietary supplement, preferably with lunch. The dosage can be adjusted if necessary.