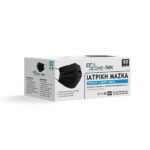 Proactive-tex Medical Mask Type II 3ply with BFE≥98% Black 50 pcs
Sale!
Proactive-tex Medical Mask Type II 3ply with BFE≥98% Black 50 pcs
Με Φ.Π.Α
| | |
| --- | --- |
| Weight | 0,45 kg |
| Κατασκευαστής | |
Available from 1 to 3 days
21 in stock
The Proactive-tex Medical Mask Type II has a bacterial filtration efficiency of BFE≥98% and 3 layers of protection. It is made of hypoallergenic non-woven and meltblown materials, does not contain latex and leaves no fluff. In addition, it is produced under sterile conditions and is suitable for surgical and medical use.
Available in a practical package of 50 pieces in black and its size is suitably adapted for adults.
It is Type IIR according to standard EN 14683: 2019 + AC.2019, Certificate NR: MDD-258.
EOF approval: AA 92370, Α.Π. 120569 / 30-11-2021
Proactive-tex Medical Mask Type II and proper use
The Type II Surgical Protection Mask should fit snugly covering the nose, mouth and chin. Before using the mask, wash your hands thoroughly for at least 20 seconds with soap and water or antiseptic. In addition, we hold the mask by the laces and apply it well on the face.
Then avoid holding the mask with your hands, exposing the nose or lowering it towards the jaw. In addition, avoid grasping the mask from the front surface and resting the mask on shared surfaces.
It is worth noting that there is no scientific data to date to suggest that the protective mask can cause difficulty breathing. Exhaled carbon molecules are so tiny that they cannot be trapped in a mask.
It is especially important that many health professionals, such as doctors in surgeries, but also dentists, use the masks many hours a day and for many years, without any effect on their health.
In addition, people with asthma who are well controlled with medication do not belong to the vulnerable groups for serious coronavirus disease, according to current data.
The protective mask generally protects against respiratory viruses that can trigger an asthma attack. The Protection Mask is not only not contraindicated, but is imposed for the best protection of these people.