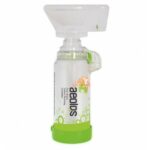 Aeolos Breathing Air Chamber Children 1-6 years (Mask + Mouthpiece) 1pc
Sale!
Aeolos Breathing Air Chamber Children 1-6 years (Mask + Mouthpiece) 1pc
Με Φ.Π.Α
-25%
| | |
| --- | --- |
| Weight | 0,75 kg |
| Κατασκευαστής | |
| MPN | 5206210352006 |
Available from 4 to 10 days
Aeolos inhalation chamber for children 1-6 years old (Mask + Mouthpiece)
aeolos is an antistatic inhalation chamber with a one-way valve and is used for the efficient administration of inhaled drugs.
With the use of aeolos, the amount of medicine deposited in the oral cavity and pharynx is significantly reduced and an even greater absorption of the medicine from the lungs is achieved.
aeolos, thanks to its small size and the inhalation control technology it applies, is your ideal ally in the treatment of asthma.
Characteristics
– Combines two products in one: Mask and Mouthpiece together.- BPA FREE (non toxic plastic). Safe non-toxic plastic without bisphenol A.- Small size that makes it particularly easy to use.- Large chamber capacity 175ml.- Special valve (butterfly type) ) of reduced resistance that facilitates the intake of the drug.- Exhalation valve on the mask.- Whistle on the back of the chamber that provides notification when intake is done at a fast/inefficient rate.- Dosing device (MDI) socket compatible with widely known drugs aerosol.- Transparent construction material that allows control of the aerosol inside the chamber.- Available in three mask sizes: Infant (0-18 months), Child (1-6 years), Adult (6+ years)
AEOLOS Instructions for Use
1. Before each use, a visual inspection must be done inside the air chamber. If a defect is found, the device must be replaced.
2. Remove the cap from the metered dose inhaler, shake well and insert it into the air chamber.
3. Apply the mask to the face and make sure that there will be no losses during inhalation.
4. Depress the metered inhaler while making sure the patient inhales slowly. If the sound of the whistle is heard then the inhalation should be done at a slower rate. During inhalation, the inhalation pointer moves towards the patient as the patient inhales normally.
5. The mask should remain applied to the patient's face for 5-6 breaths by giving one spray.
AEOLOS Cleaning Instructions
1. Remove the rear part of the air chamber.
2. Immerse all parts of the air chamber in warm water and a mild cleaning solution. CAUTION! Avoid rubbing the air chamber parts with a cloth or sponge.
3. Rinse the air chamber parts with clean water. Or remove all parts of the air chamber and place them in the top rack of the dishwasher (up to 70°C) in an upright position.
4. Place the inner tube sections vertically on a dry surface to dry. CAUTION! Avoid drying the air chamber parts with a cloth or cleaning paper.
5. Before reassembling the tube make sure all parts are dry.
* The inner tube should be replaced after one year of use.