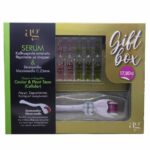 AG Pharm GIFT SET with 6x2ml ampoules of serum (Caviar & Plant Stem) & Derma Roller 0.25mm for Daily intensive treatment
Sale!
AG Pharm GIFT SET with 6x2ml ampoules of serum (Caviar & Plant Stem) & Derma Roller 0.25mm for Daily intensive treatment
Με Φ.Π.Α
-20%
| | |
| --- | --- |
| Weight | 0,30 kg |
| Κατασκευαστής | |
| MPN | 5200703501520 |
Available in store / Delivery 1 to 3 days
2 in stock (can be backordered)
Gift Box Daily Intensive Treatment Serum with Dropper + Dermaroller Microneedle 0.25mm Mature Skin with Caviar & Plant Stem (Cellular) for Radiance, Firmness & Cellular Regeneration
The AG Pharm Gift box contains the ampoules that make up the "Shine, Firmness & Cellular Regeneration" beauty protocol and the Pharm derma roller 0.25mm with titanium needles.
The Gift Box contains:
3 ampoules of Caviar serum

2 ampoules of Plant Stem (Cellular) serum

1 pipette

1 derma roller 0.25mm
1.Dermaroller Microneedle:
A revolutionary device that has the ability to naturally stimulate the production of elastin and collagen in the skin, without causing any damage

It helps restore the skin and allows better absorption of care serums

It helps in natural regeneration by activating fibroblasts, making the skin more resilient

Tightens the skin, minimizes discoloration and signs of photoaging, reduces scars and acne marks
Instructions for use:
Immerse the head for 5 to 8 minutes in 75% alcohol or in antiseptic for 45 minutes

Apply the serum to the area where you will apply the roller

Move the roller back and forth 4-5 times maintaining constant pressure and speed

Move the head at least 4 times in all directions, in the application area, horizontally vertically and diagonally

Reapply serum to your skin.
2. Caviar serum- Antiaging, Shine & Velvet texture
Antiaging and restorative serum.
Special intensive care serum with caviar extract that contains a combination of active ingredients such as balm, panthenol, sea buckthorn and allantoin, with a regenerating and soothing effect.
Contains:
☑ Balsam, suitable for skin regeneration as a natural healer. It has anti-inflammatory and antiseptic action
☑ Allantoin, which due to its keratolytic composition moisturizes and softens the skin
☑ Panthenol, which ensures rich and immediate hydration
☑ Buckthorn, which contains 190 bioactive substances and favors cell renewal
☑ Vitamin E
This combination gives:
Shine and firmness

Velvet texture and brightness

Deep hydration

rectification

Perfect Look
Suitable for all skin types.
3. Plant stem cells serum-Plant stem cells/Natural regeneration
Concentrated moisturizing serum with plant stem cells, highly effective.
The Plant Stem Serum contains a set of active elements consisting of stem cells that mobilize the differentiation process of epidermal cells contributing to:
Cellular regeneration

Combating skin aging

Restoration of vigor

Activation of the collagen synthesis mechanism
Suitable for all skin types.