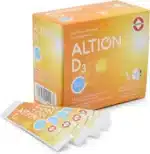 Altion D3 Vitamin D 1000IU Without Water, 30sticks Orange Flavor
Sale!
Altion D3 Vitamin D 1000IU Without Water, 30sticks Orange Flavor
Με Φ.Π.Α
| | |
| --- | --- |
| Weight | 0,15 kg |
| Κατασκευαστής | |
Available from 1 to 3 days
4 in stock
Vitamin D3 is essential for the absorption of calcium and phosphorus, contributes to the health of bones and teeth, as well as the normal functioning of muscles and the immune system. Vitamin D3 deficiency in adults can lead to muscle pain and weakness, increased risk of falls and fractures, and contributes to osteoporosis, especially after menopause. Vitamin D3 deficiency during pregnancy can have a negative effect on the pregnant woman and the fetus.
The innovative form of ALTION D3® is designed to offer great ease of swallowing without water, while it is accompanied by a unique burst of freshness in the mouth while having a wonderful orange taste.
Useful information
Consuming one sachet of ALTION D3® provides you with 1,000 I.U. (25 µg) of vitamin D3 (500% of the Recommended Daily Intake)
The package contains 30 sachets which cover the needs of a month
Warnings: Dietary supplements should not be used as a substitute for a balanced diet. This product is not intended for the prevention, treatment or cure of human disease. Consult your doctor if you are pregnant, breastfeeding, on medication or have any health problems.
To be stored in a shady and cool place (15-25oC), away from small children.
Tel. Poison Center: 210 7793777
Nr EOF notification : 102816/14-11-2017
The EOF notification number does not replace the EOF registration number.