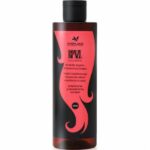 Anaplasis RPNZL The Shampoo Shampoo for Hair Reconstruction & Hair Extension 250ml
Sale!
Anaplasis RPNZL The Shampoo Shampoo for Hair Reconstruction & Hair Extension 250ml
Με Φ.Π.Α
-36%
| | |
| --- | --- |
| Weight | 0,30 kg |
| Κατασκευαστής | |
| MPN | 5200137590510 |
Available from 1 to 3 days
11 in stock
Anaplasis RPNZL The Shampoo 250ml

With Silk, Keratin, D-Panthenol and Hippophaes
Το RPNZL – The Shampoo of the company anaPLASIS, is a special care product, which thanks to its selected natural ingredients, takes care of the scalp and cares for the hair along its entire length.
The extracts Horsetail, Chamomile and Rosemary, revitalize and strengthen the scalp, helping to prevent or even the combined treatment of hair loss. ω-3, ω-6 and ω-9 fatty acids and Provitamin B5 (D-Panthenol) nourish hair from root to tip, promoting root strengthening and hair lengthening. Silk and Keratin act along the entire length, help to restore the protein layer of the hair in weakened hair, give shine and protection against breakage and split ends.
The mild cleansing agents of natural origin that it contains effectively remove excess sebum and accumulated care and styling products, without causing dryness or oiliness to the skin.
RPNZL – The Shampoo cares for and gently treats the scalp, while giving your hair a silky texture and resistance to breakage and shearing. With a wonderful, intoxicating Monoi de Tahiti fragrance.
Instructions for use:
After applying one of the anaPLASIS Hair Oils and after rinsing the oil from the hair with lukewarm water, apply an adequate amount of RPNZL – The Shampoo to the scalp, gently massaging with your fingers. Then rinse thoroughly. Repeat washing as needed.
For the complete care of your hair, as well as for dyed and/or damaged hair that needs extra softness and hydration, it is recommended to use the RPNZL Hair Mask by anaPLASIS after every wash.