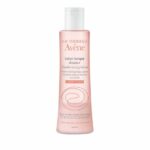 Avene – Lotion Douceur Mild Toning Lotion for Sensitive and Dry Skin 200ml
Sale!
Avene – Lotion Douceur Mild Toning Lotion for Sensitive and Dry Skin 200ml
Με Φ.Π.Α
-10%
| | |
| --- | --- |
| Weight | 0,28 kg |
| Κατασκευαστής | |
| MPN | 3282779051491 |
Available from 1 to 3 days
6 in stock
Indications: This gentle protective lotion does not contain alcohol and is specially designed for sensitive dry and very dry skin.
Properties: Very rich in precious and beneficial Avene Thermal Water, it offers the skin all the soothing and anti-irritant properties of Water.
Thanks to the natural silicon derivatives in suspension form that leave a soft protective film on the skin, it envelops your skin day after day in an endless veil of softness.
Its benefits
Protective

: Enriched in silicon oxides, it protects your skin daily with absolute softness. Without alcohol, it respects the integrity of every skin type, even the most sensitive.

Soothing

: Avène thermal water, soothing and anti-irritant, offers your skin an immediate feeling of comfort.
Is it right for me?
The gentle lotion is especially suitable for sensitive skin with a tendency to dryness.
Packaging: 200 ml bottle
——————————
LINE OF ESSENTIAL FACE PRODUCTS FROM AVENE
A range of hygiene and care products for all sensitive skins.
Non-aggressive hygiene products that respect your sensitivity.
Products for removing make-up with all softness.
Moisturizing, protective and soothing products for the face and eye area.
USEFUL INFORMATION FOR SENSITIVE SKIN
What is sensitive skin?
Whatever your skin type, certain factors can cause or favor the appearance of excessive sensitivity: your skin reacts more strongly, where you would prefer not to react at all…
Sensitive skin by nature:

your skin is thin, fair, often dry. It exfoliates superficially and reddens easily (probably, the beginning of erythroid vessels).

Reactive sensitive skin

: cold, sun, wind, inappropriate hygiene and care products irritate your skin. A peel or laser intervention can make your skin overreact.

The occasional sensitive skin:

a skin disease, such as seborrheic dermatitis or rosacea, there are so many conditions that awaken the sensitivity of your skin.
Each skin type, with its own sensitivity
Dehydrated skin:

pulling and lack of comfort.

Dry and very dry skin

: reduction of defense functions, appearance of small wrinkles.

Combination or oily skin:

small areas that shine on the wings of the nose and high on the cheeks.

Sensitive skin in the environment

: acute reactions to the slightest disturbance.
Sensitivity and awareness
Sensitivity or intolerance, a matter of degree…
We must separate: sensitive skin from sensitized skin.
Sensitive skin

: the skin stings, pulls. Overreacts to wind, cold, unsuitable products or too strong cleaning, too hard water.
Sometimes, this sensitivity gets worse. The skin is not relieved by the usual moisturizing cosmetic products. The skin can't tolerate anything anymore. He becomes allergic.
From then on, your skin stings and pulls, reddens and peels.
Sensitized skin:

some intolerances to hygiene and care products are actually true allergies, responsible for eczema or hives. Consult your doctor to look for the causes of this allergy together.