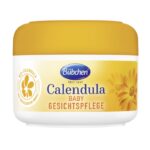 BUBCHEN Baby Face Cream with Calendula Extract 75ml
BUBCHEN Baby Face Cream with Calendula Extract 75ml
6,95 € Με Φ.Π.Α
Available from 1 to 3 days
2 in stock
Bübchen Calendula cream for baby face care – 75ml
Product characteristics:
The rich formula with organic calendula intensively cares for baby's dry skin.
Calendula is known for its soothing effect.
Supports the skin's natural protective function.
Only certified organic calendula from controlled cultivation.
Without added mineral oils, preservatives and colorings (according to Kosm. VO).
Developed to minimize allergy risks.
Skin compatibility dermatologically confirmed –
Bübchen products are recommended by midwives and doctors.