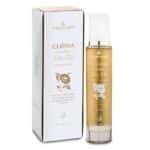 Cleria Renewal Dry Oil Dry Oil for Face, Body and Hair, 100ml
Sale!
Cleria Renewal Dry Oil Dry Oil for Face, Body and Hair, 100ml
Με Φ.Π.Α
-10%
| | |
| --- | --- |
| Weight | 0,3 kg |
| Κατασκευαστής | |
Available from 4 to 10 days
Dry oil rich in moisturizing and antiaging ingredients to boost Klotho protein
Nourishes, hydrates and offers visible renewal and shine to Face, Body and Hair. With a wonderful aroma and a light texture that is absorbed immediately without leaving a greasy feeling. Golden Mastic oil concentrated in active ingredients increases the density and elasticity of the skin by up to 23% after 28 days of use, while at the same time it enhances the production of the Klotho protein that slows down skin aging.
This miraculous protein got its name from Klotho, one of the 3 fates of Greek mythology who wove the life of every person with her thread.
The Klotho protein is linked to the DNA repair process and cellular detoxification and is now considered by scientists to be the 'protein of youth'. Scientific studies have shown that the reduction of Klotho is directly linked to the aging of epidermal cells.
Anti-aging action
The mastic, after being collected like a tear from the mastic tree, is transformed by a modern extraction method into an oil concentrated in active ingredients. According to clinical studies, the action of Golden Mastic oil focuses on the epidermal main cells, increasing the production of the important protein Klotho to the levels that were a decade ago.
Reconstruction & Hydration
Camellia oil and Ω3-Ω6 fatty acids are nourishing oils rich in Vitamin A and trace elements, ideal for caring for sensitive skin and damaged hair. They retain moisture, increase elasticity and noticeably improve the appearance of the skin.
Soothing action
Vegetable oxygenated esters extracted by special processing from corn oil and distinguished for their beneficial properties for irritated skin. Clinical studies have proven that they enhance the fast and effective recovery of the skin thanks to their soothing and healing effect.