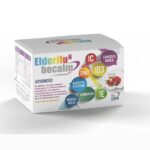 Elderflu N Anvanced for Normal Immune Function, 7 Sachets
Sale!
Elderflu N Anvanced for Normal Immune Function, 7 Sachets
Με Φ.Π.Α
-30%
| | |
| --- | --- |
| Weight | 0,1 kg |
| Κατασκευαστής | |
Available from 1 to 3 days
9 in stock
ELDERFLU N ADVANCED 7 sachets
Becalm Elderflu N Anvanced
Dietary Supplement to Combat Flu & Cold Symptoms
Elderflu N Advanced is a food supplement, with Black Elderberry extract, which strengthens the immune system and is a shield against viruses, Acetylcysteine with mucolytic and expectorant action and Ivy for the treatment of cough and bronchitis.
It also contains zinc, Vitamin C, Vitamin D3, Vitamin E and Echinacea which helps fight colds and infections.
Elderflu N Advanced is a unique product with the combination of its 8 active ingredients that effectively helps fight cold and flu symptoms, such as cough, runny nose, fatigue, lethargy.​
Elderflu N Advanced not only combats the symptoms of the virus in just a few days, but at the same time shields the body to get rid of the suffering of the disease sooner by speeding up recovery.​
Its active ingredients act as a powerful mucolytic for acute and chronic lung diseases (COPD) as well as in cases of chronic smokers by removing harmful substances from their lungs.​
Research has shown that taking Black Elderberry significantly improves flu symptoms such as fever, headache, muscle aches and nasal congestion after just 24 hours, while at the same time reducing the intensity and duration of flu symptoms.​​
According to clinical research, Elderberry is very effective against H5N1 influenza virus and H1N1 virus by 68%.
Benefits
It protects the body and strengthens the immune system.
During the illness, it drastically reduces the symptoms and helps expectoration
It reduces the duration of illness and speeds up recovery
It protects and cleans the lungs from the carcinogenic substances found in cigarette smoke.
It can act as a detox for chronic smokers if taken periodically.
It protects the liver from the toxic effects of alcohol and reduces the toxic side effects of certain medications.
Ingredients
Black Elderberry: Black Elderberry is a plant with the ability to strengthen the immune system. Thus, it protects the body preventively against colds or flu, while in case of illness, it reduces the symptoms and the duration of the illness. Rich in flavonoids (mainly anthocyanins), it is one of the most powerful natural antioxidants that exist.​
Acetylcysteine: It is used as a mucolytic agent to reduce the viscosity of mucous secretions, to loosen thick mucus in people with cystic fibrosis or chronic obstructive pulmonary disease. It improves bronchial and pulmonary function, reduces coughing and improves oxygen saturation in the blood.​
Zinc: One of the most common uses of zinc is to boost the immune system and treat the symptoms of the common cold. Taking zinc can reduce the intensity of symptoms (runny nose, cough and sore throat) and even the duration of a cold. There are indications that adequate intake of zinc can reduce the chances of colds or viral infections, especially in vulnerable groups such as young children.​
Vitamin C: Vitamin C, also known as ascorbic acid, is a water-soluble vitamin. It is a powerful supporter of healthy immune function. It supports the production and activity of antibodies, improves the activity of natural killer cells and favors the formation of prostaglandins.​
Vitamin D3: In recent years, a number of scientific studies have highlighted the important role of vitamin D in the overall health of the body. It has been recorded that it shields the immune system from viral and microbial infections, but also protecting against autoimmune diseases.
Vitamin E: The benefits of vitamin E stem mainly from its antioxidant properties. Its biggest advantage is its ability to provide a protective shield to the cell membranes and thus the immunity is strengthened even more, especially in the elderly.​
Ηedera Helix: Ivy extract is expectorant to treat cough and bronchitis. Effective in chronic bronchitis and acute laryngitis. It helps expel phlegm and fluids from the lungs.
Echinacea: Echinacea is an herb that has been used for centuries for its healing properties. Fights the common cold and upper respiratory infections. It has antiviral, antifungal, antibacterial and anti-inflammatory properties.
Active ingredients
Amount of dose per day:
Black Elderberry 400 mg
N-Acetylcysteine 600 mg
Vitamin C 500 mg
Vitamin D3 2500 IU
Vitamin E 12 mg
Zinc 10 mg
Hedera Helix 250 mg
Echinacea 250 mg
Does not contain sugar
Does not contain gluten
Does not contain lactose
Use
It is recommended to take one sachet of powder dissolved in water or juice, once a day.
It can be used in combination with painkillers and antipyretics.
It is recommended to take it periodically once a quarter and for a period of one week, for people with chronic upper respiratory disorders, as detoxification.
Dietary supplements should not be used as a substitute for a varied and balanced diet.
Suitable for vegetarians and vegans
It does not contain soy, dairy, peanuts and eggs.
Do not use if you have allergic reactions to any of the ingredients in this product.
Keep it away from small children.